Designs for Small Spaces – Create a Cozy French Kitchen
by Kushal
Creating a beautiful kitchen in a small space can be quite a challenge, but there are ways to make it work. Give your small kitchen the French treatment.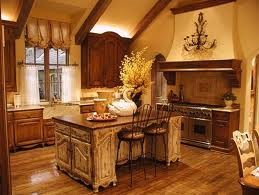 If you have a small home and an equally small kitchen, you may feel that your design options are limited as well. The good news is that there are many different ways to dress up even the smallest kitchen. As with so much in the home improvement field, a little bit of creativity and design inspiration can go a long way.
Converting your existing space into a French kitchen is one of the best ways to make the most of the room you have available. You do not need a lot of room to create a French kitchen. In fact, the French kitchens on which those classic designs are based are often much smaller than the average American kitchen. Europeans in general, and the French in particular, are masters at making the most of the space they have available.
Give Your Cabinets a French Makeover
The right cabinet design is critical to the success of any kitchen makeover. If you want to give your kitchen a French makeover, you will need to look at your existing cabinets and think about ways to make them more attractive.
One idea is to replace the cabinets you currently have with distressed wood models. This is a particularly good option if you have already decided you need new cabinets. If your cabinets are in good shape but unattractive, you can choose cabinet refacing to give them an updated French look for half the price.
Consider using pickled wood to make your French kitchen look larger and give the illusion of extra space. Pickled wood in light colors is a particularly good choice for a French kitchen design.
Choosing the Right Accessories
The right accessories can make or break your kitchen makeover, so it is important to choose them with care. If you are designing a French kitchen, think about throwing in some authentic French accessories, like cookbooks written in that language or pictures of Paris and other European destinations.
The right pictures and wall hangings can really bring your French kitchen to life. You can find an assortment of wall hangings, pictures and photo frames at your local department store, or even pick up a few items at garage sales and flea markets.
Wall Stencils
You do not want to forget about the space above your head when you are designing your French kitchen. Make your space more attractive and more interesting by stenciling the top of each wall with a French theme. You can choose from a variety of European themes, including tiny Eiffel Towers and other French landmarks.
If you need new wallpaper to go with your kitchen redesign, consider choosing a design with a French theme. You can find these specialty wallpapers in a variety of stores, from home improvement warehouses to specialty intemet stores. No matter where you shop for them, these unique wallpaper designs can really bring your French kitchen to life.
Whether you are a regular visitor to Paris or just hope to go someday, a French kitchen can bring the beauty and charm of Europe right to your front door. If you have been looking for the perfect way to update your kitchen and make the most of the available space, consider giving your kitchen a French makeover.
You might also like
Yonanas Review
Yonanas is a frozen dessert maker that touts the ability to create an ice cre...
---
Disclosure: This page generates income for authors based on affiliate relationships with our partners, including Amazon, Google and others.