Internet Safety – Some Important Warning Signs for Parents
by Kushal
Keeping your kids safe on the Internet is not easy, and there are some early warning signs every parent should be aware of.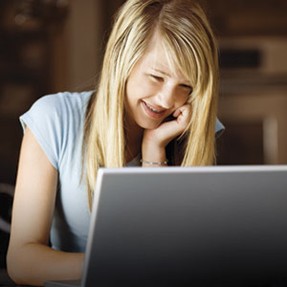 The Internet can be a godsend for both kids and parents. The Internet literally has the power to bring the world right to your door, allowing your child to research virtually any subject. The Internet provides all the knowledge of an encyclopedia and gives kids of all ages the ability to learn at their own pace and explore the world at their leisure.
But in the end, the Internet is just a tool, and like all tools it can be abused. The same Internet that brings the magic of learning can also deliver everything from hardcore pornography and online predators to extreme violence and online bullying.
It is up to parents to keep their children safe from those dangers while still allowing them to explore all the good things the online world has to offer. As a parent, one of the most effective things you can do is to be on the lookout for the early warning signs of online danger.
If you notice any of these potential warning signs in your child, it may be a good idea to have a long talk about the possible dangers of the online world.
Your child spends an inordinate amount of time accessing the Internet. If your child receives the average amount of homework, spending a few hours in research each night is not out of the ordinary. If, on the other hand, your child spends every waking moment online, that could be an important early warning sign.
Your child is reluctant to access computers in common areas of the home. If your child is engaging in inappropriate activity online, they may try to hide it by using the computer in a private area like a bedroom. You can test this potential problem by encouraging your child to use a PC set up in a public area, or to bring their laptop into the living room during the evening hours.
Your child starts to receive telephone calls at odd hours, or phone calls from people you do not know. Online predators typically try to take their activities offline by trying to meet their victims in person, and that often starts with a seemingly innocent phone call.
You find porn on the computer your child uses regularly. This is a big warning sign, and one that should not be ignored.
Your child's social media page includes information that should be kept private, like details about after-school activities or your home address This type of information should never be part of a social media page.
You notice the computer monitor change when you walk into the room. If your child has something to hide, you may see the monitor suddenly go black when you walk into the room. If you notice that the laptop lid mysteriously closes when you walk through the door, your child probably has something to hide.
Your child receives unexplained gifts from people you do not know. This is a big warning sign that your child has connected with an online predator who is attempting to woo his or her victim.
Your child withdraws from family life and stops enjoying things they used to enjoy. Watching for changes in behavior is one of the best ways to nip a problem in the bud.
If you notice any of these warning signs in your child, it is important to get things out in the open as soon as possible. Ignoring a potential problem will not make it go away, and every day you delay could be putting your child at greater risk, both online and off.
---
Disclosure: This page generates income for authors based on affiliate relationships with our partners, including Amazon, Google and others.