How to Add Ebooks to Your Amazon Kindle
by Kushal
This article shows you the different methods along with troubleshooting tips for Amazon purchases, library checkouts, and ebooks purchased from third-party sites.
In most cases, loading an ebook to your Kindle is simple. Sometimes, though, things are more complicated—especially if you bought the title someplace other than Amazon. Here are the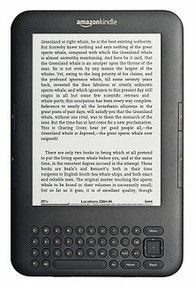 most-common scenarios that give users problems and how to deal with them.
Amazon Purchases
Your Kindle connects to the Internet through either WiFi or 3G. Make sure the connection is on. then go to "Manage Your Kindle" at Amazon. From there, select the drop-down menu to the right of the ebook you just purchased and send it to the Kindle you're using. (If you have more than one device registered to your account. the menu will let you select which one you want.)
From there, the Kindle should retrieve the ebook. If not, go to the device's menu and select "Sync & Check for Items." The Kindle should detect the ebook.
Overdrive Library Loans
With a Kindle and public-library card, you can borrow library books in Kindle format. The confusing part is that you can't download the titles with your Kindle; you have to use your computer's Web browser.
When you check out a book through your branch's Web site, clicking "download" or "get ebook" should take you to Amazon's Web site. There, click on "Get library book," which will allow you to send the borrowed title to your device.
However, if you have 3G and not VVIFi, you'll have to "sideload" the title. This also applies when you purchase a Kindle-compatible ebook through sites like f3aen's Webscriptions In these cases, you'll download the file to your computer and use the Kindle's USB cable to make the transfer.
Sideloading
When you need to sideload a file, locate it on your computer. Conned your Kindle to the computer with the USB cable. (If you don't have the Kindle cable, try another, USB micro cable from one of your other electronic devices, like your digital camera.)
From there, you should be able to see the Kindle; in Windows, look under "My Computer" or "Computer."
Simply drag and drop the ebook file to the "Documents" folder on the Kindle. Eject the device and, when you turn it on, the new ebook should be listed.
If you're still having problems, you can try:
*   Ejecting and reconnecting the Kindle.
*   Restarting the computer.
*     Restarting the Kindle. This involves holding the power key or slider for twenty to thirty seconds, which completely reboots the device.
*     Re-sending the file through Amazon's "Manage Your Kindle" page. Every now and then, a glitch or other error causes problems; trying again can help.
*     Checking the file type. Newer Kindles aren't compatible with the . e pub fonnat, which you might have accidentally downloaded. Amazon's site doesn't sell .epub files, but other places do.
These steps should have you reading the new ebook on your Kindle in just a few minutes, if that long. For further troubleshooting and instructions, you can visit Amazon's Kindle forums for advice and information. The site where you obtained the ebook, if you didn't buy from Amazon, can also offer more help if it's needed.
---
Disclosure: This page generates income for authors based on affiliate relationships with our partners, including Amazon, Google and others.