Dino Dan Toys
by TerriRexson
The official Dino Dan Toys are here! Lots of cool brightly colored dinosaurs from the show as action figures.
Official Dino Dan Toys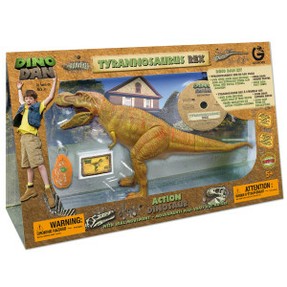 We've been waiting for the official Dino Dan toys all year, and they're finally here in time for Christmas! The Dino Dan toys can be ordered now. Orders are expected to ship around December 9th 2011. 
As you would expect the dinosaurs action figures are gorgeous to look at, as they use the bright colors from the show. Scientists don't really know what color dinosaurs were so it's great to have some fun with them. 
There are larger scale Dino Dan dinosaur sets that have extras including a Dino Dan sound player. And there are also smaller dinosaurs which are less expensive. Kids will want to start with their favorite dinosaur and then build up a collection. 
Dino Dan Tyrannosaurus Rex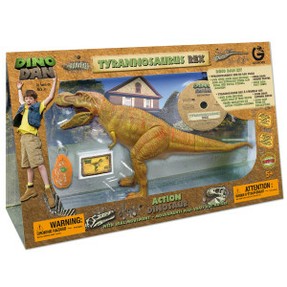 The Dino Dan Tyrannosaurus Rex Action Figure is big and mean! He's 22.4" long. 
And it's not jus the T-Rex you get in this set. There's also a DVD with a Dino Dan episode and an exclusive video clip from the Royal Tyrrell Museum.
And you get a Dino Dan sound player with 4 different dinosaur roar sound effect.
There's also a Dino Dan fact sheet which has a secret access code which unlocks exclusive Dino Dan bonus content and scientific educational material. 
Dino Dan Triceratops, Stegosaurus and Brachiosaurus Sets
The Dino Dan Triceratops, Stegosaurus and Brachiosaurus Sets also feature large brightly colored Dino Dan dinosaurs and extra accessories.
They each have their own Dino Dan sound player. An episode on DVD plus exclusive video clip and access to exclusive online Dino Dan material.
Aren't those colors gorgeous. I love the Brachiosaurus. And those Stegosaurus spikes look so cool. Dino Dan fans are going to love these dinosaurs. 
These are large dinosaur figures rather than the little ones you often see. For example, Triceratops is 14.2 inches long. 
More Dino Dan Dinosaur Action Figures
There are lots more colorful Dino Dan dinosaur action figures available. You can choose from:
Spinosaurus (above left)
Corythosaurus (above right)
Velociraptor
Apatosaurus
Styracosaurus
Pachycephalosaurus
Parasaurolophus
Ankylosaurus
These dinosaurs are also quite big action figures. For example, Spinosaurus is 10.82 inches long. They each come with a Dino Dan fact sheet and a code for access to online content. 
The dinosaurus are of course in vibrant colors, like they are in the show. I love Corythosaurus wit his lovely orange patches and Spinosaurus is rather handsome too. My younger son is rather taken with the yellow Parasaurolophus, whereas my older son prefers the carnivores. 
---
Disclosure: This page generates income for authors based on affiliate relationships with our partners, including Amazon, Google and others.