Kids Paleontologist Vest | Safari Vest
by TerriRexson
Choose a palentologist vest or safari vest for kids. Also great for explorers and as a fishing vest. Great for Dino Dan, Diego and Dinosaur Train fans.
Choose an explorer vest for a great adventure
For kids age 4 or 5-12
Do you have a child who loves role playing games? Pretending to be a paleontologist on a dino dig perhaps? Or a Safari ranger or animal explorer rescuing injured animals? Or maybe you want to take your child fishing and they want a fishing vest just like you? Or perhaps a real Safari or Geology or Paleontology expedition to find rocks or fossils. 
Whatever your adventure, we'll help you find the right utility vest for your child. We've included neutral colors for boys and girls, and also pink!
An real travel or adventure vest
The Kids Uncle Milty's Travel Vest is a high quality travel vest intended for the outdoors. There's an adult vest in the same style so kids can dress just like their parents!
Reviews indicate that this vest is good quality and washes well. Purchasers indicate that the small size fits a 6 year old (with room to grow in many cases) and medium would be for an 8 year old (again leaving room to grow). 
This vest can be used for roleplay and for real adventures. It has loads of pockets for storing tools, cameras, notebooks, maps and more. 
Kids Uncle Milty's Travel Vest
Available in kids Small, Medium, Large, X-Large
Backyard Safari Cargo Vest
Age 5-12
Roleplay Paleontologost or Safari Vest
Great for Halloween and everyday play
The Backyard Safari Cargo Vest is very popular. Dino Dan fans love to dress up as a paleontologist and dig up fossils in the backyard or sandbox. Dinosaur Train fans will love being a paleontologist like Buddy too!
Diego fans will love be an animal rescuer or dinosaur expert like Diego and his sister Alicia. 
This vest is great for everyday roleplay and also makes a great Halloween costume. There are pockets and D-rings to attach tools to. 
The size says from 5-12 but reviews suggest that it's best for under 10s and lots of four year olds love their vest and have plenty of room to grow! It does have an adjustable strap to help fit children of different sizes. 
Backyard Safari Vest in Action
Watch the video below to learn all about the features of the Backyard Safari Vest and see it in action.
Backyard Safari Cargo Vest Video
See this vest in action
Melissa and Doug Backyard Explorer Role Play Costume Set
Melissa and Doug Backyard Explorer Role Play Costume Set
Excellent! Melissa & Doug have brought out a backyard explorer role play costume sets. 
Melissa & Doug costume sets are well known for their great value for money and playability. 
This set includes an explorer vest and pith helmet. 
You also get functioning binoculars, a bug jar and a name tag included in the set. 
The fabrics are machine-washable which is very important for outdoor explorers!
This set is suitable for girls and boys from aged 3 to 6. 
You can dress up as a safari or jungle explorer, a forest ranger or zookeeper, or an animal expert. 
My five year old currently wants to be an explorer and animal expert and hopes to discover new species. I love the imagination!
Lucky Bums Fishing and Adventure Vest
Pink Girls, Khaki, Camo / Small or Large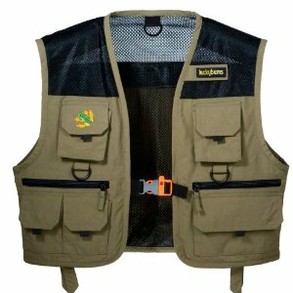 Khaki Explorer Vest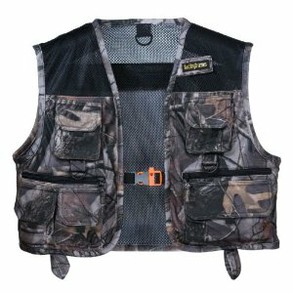 Kids Camo Adventure Vest
Lucky Bums Pink Girls Adventure Vest
Kids Small or Large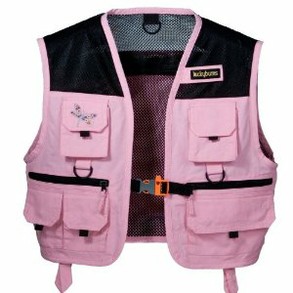 Pink Paleontologist or Safari Vest
Lucky Bums Fishing and Adventure Vest
Pink, Khaki and Camo
The Lucky Bums Fishing and Adventure Vest has lots of pockets and comes in three different color choices. Camo and Khaki will be popular with boys and some girls too. But for some girls, the pink explorer vest will be the only choice!
This vest has a great assortment of pockets and compartments and some features to make fishing easier. It has magnetic pocket snaps, an integrated safety whistle and a magnet plate the chest for convenient storage of fishing flys. These vests are perfect for fishing and work well for other outdoor adventures too. 
These vests come in kids small for little kids and large for big kids. Manufacturer's sizing indicates that the small size is for age 4-7 and the large size is for age 8-10.
Reviews indicate that children as young as 3 are enjoying the small size - but with lots of room to grow. And the large size is quite big on a six year old. So the sizes sound about right. 
More Adventure Roleplay Accessories
Paleontologist Costumes for Kids
Paleontology Roleplay Accessories
Field tools, fossils, bones.
Girl Paleontologist Costumes
---
Disclosure: This page generates income for authors based on affiliate relationships with our partners, including Amazon, Google and others.