Dinosaur Party Supplies
by TerriRexson
Do you need dinosaur party supplies for a dinosaur party? Excellent! We'll help you make the party go off with a raah!
Choosing a Dinosaur Party
A dinosaur party is a very popular theme for kids at the moment. The Dinosaur Train TV show has made dinosaur very popular with the toddler, preschooler and little kid age group. Interestingly Dinosaur Train is very popular with girls as well as boys so lots of dinosaur parties are for girls. 
For slightly older boys Dino Dan has made dinosaurs come to life! The brightly colored TV show featuring Dino Dan Henderson is popular with kindergarten and primary age kids. These kids will want a slightly more grown up dinosaur theme for their party. 
Dinosaur Party Supplies for Dino Dan fans
This Dino Blast kit is our recommendation for Dino Dan fans and bigger kids. They will love the (not too) scary T-Rex and the dinosaur eyes.
Dino Blast Kit-N-Kaboodle Dino Blast Deluxe Kit-N-Kaboodle Kit
The deluxe kit includes extra prehistoric party decorations as well as tableware. As well as the basic 8 guest kit (below) plus: Banner, Dino Blast Mylar Balloon, Birthday Candles, Yellow Crepe, Chocolate Brown Crepe Streamer
Dino Blast Basic Kit-N-Kaboodle Kit
8 Dinner Plates, 16 Luncheon Napkins 8 Cups, 8 Thank You Notes, 8 Yellow Plastic Cutlery sets, Gold Metallic and Green Bright Latex Balloons (12 each), Plastic Table Cover,Black Curling Ribbon"
These kits are good value compared to assembling the same items yourself and importantly you don't have to worry about some of the range being out of stock. I like that you also get thank-you notes that will match the party, reminding kids of the awesome dino party they attended.
I also like this set because it goes well with my Dinosaur Eye Cupcakes which are always very popular. 
Dinosaur Eye Cupcakes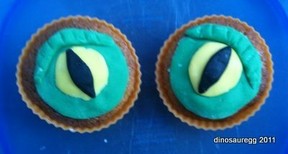 These dinosaur eye cupcakes are my own design.
Very easy to make and very popular with kids who love dinosaurs.
Click the picture for instructions on how to make these and lots of other dinosaur cupcakes. 
For little kids including Dinosaur Train fans (hey Buddy), we love the Little Dino range of party supplies. This range features cute dinosaurs in bright colors and you can get loads of matching accessories. 
This set includes the basics for 8 party guests:  
8 x invitations
Tableware: 8 x dinner plates, dessert plates, cups, forks, spoons, 16 napkins, tablecover.
Decorations: foil balloon, 12 balloons (2 colors), curling ribbon (2 colors), crepe paper rolls (2 colors), and cake candles.
More Little Dino Party Supplies
Little Dino 21" Pinata
Little Dino Party Favor Kit Child

Only $4.49

Little Dino T-Shirt (3T) Party Supplies
A Dinosaur Dig is Great Fun at a Dinosaur Party
Planning a Dinosaur Party
There are lots of cool dinosaur party foods you can make an dinosaur party games and activities that you can set up for kids. You can have lots of fun with this theme. 
Removeable dinosaur wall decals are also very cool for creating a prehistoric atmosphere for the party. 
Ideas for your Dinosaur Party
---
Disclosure: This page generates income for authors based on affiliate relationships with our partners, including Amazon, Google and others.