Dinosaur Shoes for Kids
by TerriRexson
Dinosaur shoes for kids are a great option for dino fans. We've got a range of styles including slip-on and lace-up shoes and high top boots.
Custom Design Dinosaur Sneakers
Choose a design and customize it
If you're looking for dinosaur sneakers for a child, we've got a great selection here. The sneakers are printed to order and can be customized to be just perfect for your child. 
Dinosoles Dinosaur Shoes
With flashing dinosaur eyes and dinosaur footprints
Best Dinosaur Shoes
Our favorite design
These Dinosaur BOOM! shoes are our favorite design. 
 The BOOM! shoes to the right are brilliant for dinosaur fans. They have an erupting volcano on the front with a Stegosaurus on one side and a T-Rex on the other. 
On the outside at the back are green brachiosauruses. And on the very back you'll see a very cool T-Rex skeleton! Kids will love these shoes. 
Click on the shoe to the right to view it from all angles. 
Dinosaur Island Boom! Shoes
Volcano with Stegosaurus and T-Rex
Customize your dinosaur shoes
The dinosaur shoes at Zazzle can be customized to get just the right look for you child. This is brilliant for getting the perfect design. My older son loves red, while yellow is by younger son's favorite color. Not a problem! We can adjust designs to their favorite colors. Let's take a look at how this works. 
Awesome Dinosaur shoes
Pink for girls
Very Pink Dinosaur Shoes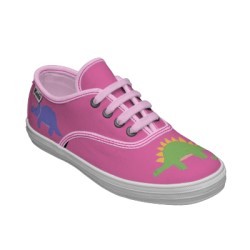 Very Pink Dinosaur Shoes
First we choose a dinosaur shoe design
First we choose a dinosaur shoes design at Zazzle, we've included our favorites on this page.
These hot pink awesome dinosaur shoes are great for girls who love dinosaurs. But what if they aren't quite pink enough for your daughter? Not a problem, we can go in and change the colors of the uppers, laces, binding and even the lining and the sole!
This is very easy to do, just by selecting colors with drop-down boxes. At every step Zazzle shows you what the design will look like. 
The design on the right is what we got when we customized the Awesome dinosaur shoe to be even more pink. You can click on the link to buy the extra-pink version of the shoes. 
More Dinosaur Shoes
More of our favorite designs
Let's take a look at more of our favorite designs. First we'll look at slip-on sneakers then more lace-up designs. 
Slip On Dinosaur Sneakers
Kids Keds
Slip on Keds Dinosaur Shoes
We've chosen a few of our favorite slip-on design shoe designs. Slip On shoes are great for little kids who can put them on my themselves and for bigger kids in a hurry to get out and play. 
More slip on dinosaur shoe designs
A Paleontologist Vest
Makes a great gift for a child who loves dinosaurs
Kids Keds
The sneakers are made by Keds so you are getting quality kids shoes as well as a very cool design that's just right for your child. 
The Keds come in two kids styles: Champion Lace Up and Champion Slip On. Keds are comfortable and well-designed. The design you choose will be professionally printed onto the shoes with Zazzle's quality fabric printing technology. 
Keds Shoes Sizes
Sizing
Keds sneakers come in a wide range of sizes from 7T through to 5Y, including half sizes. So you can get just the right size for toddlers, preschoolers and big kids. 
Kids Lace Up Dinosaur Sneakers
Champion dino sneakers
Lace Up Dinosaur Sneakers
The Keds lace up dinosaur shoes are very cool. Constrasting laces make for some very cool designs.
More Lace up dinosaur shoe designs
International Shipping
Get your dinosaur shoes shipped to most worldwide locations. Go through the order process to see shipping costs.
Do you know which was the biggest dinosaur?
---
Disclosure: This page generates income for authors based on affiliate relationships with our partners, including Amazon, Google and others.