Grilling Gift Ideas
by emmalarkins
Even if it's winter in your part of the world, that doesn't mean you have to hold off on grilling gifts. There's nothing wrong with firing up the grill in a foot of snow!
For Those Who Like to Grill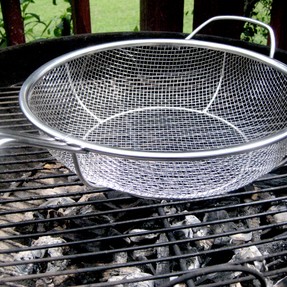 These grilling gift ideas will have your recipients gleefully manning the barbecue in no time. Best of all, you don't have to limit this kind of gift to the summer months; it can be great fun to fire up the grill on a nippy winter afternoon, even if you have to brush the snow off of your Weber before you can crack open the lid.
A gift related to cooking on the grill is a great choice for people who are hard to shop for. A lot of the grillers I know aren't great at expressing their desire for certain types of presents, and they don't necessarily ask for tools to improve their outdoor cooking experiences.
But you can tell by the way that they lovingly scrape their grates, or by their pickiness with charcoal types
, that they're true grilling afficiandos. And you can tell they'll get that gleam in their eyes when you give them gifts from this list.
Looking for something else? You might also be interested in House Gifts for Men or Outdoorsman Gift Ideas.
Grilling Cooking Tools and Equipment
Tongs, Forks, Brushes, and More
Isn't it interesting that when you're cooking on the grill, the things you use to do it are called "tools" instead of "utensils?" Much be a macho thing.
Basic tool sets. A basic set of grilling tools will often include a two-pronged fork, a metal spatula, and a pair of tongs, all with handles long enough to protect the chef from the heat of the coals. Most grill guys and girls will already own a set, but you might find gift-giving opportunities in upgrading the quality or replacing a set with worn out or missing pieces.
An apron. It can be tricky to get a stubborn grill master to agree to wear an apron. To offset this effect, you can play up the heat-reflecting, gear-carrying, and clothes-shielding aspects. Just make sure you don't get a jokey apron unless you're sure your target - er, I mean, recipient - will appreciate it.
Saucing systems. Purveyors of fine grilling accessories have managed to turn the application of sauce or basting liquid into an art. The most advanced "systems" are comprised of some sort of a container and a brush that fit together in an ingenious manner, although a regular, old-fashioned brush will also do in a pinch. I'm personally not a huge fan of silicone, because it tends to melt when it comes in contact with a too-hot surface, but there are those who swear by it.
Want to test out your saucer? Check out this highly-reviewed BBQ sauce recipe on Foodnetwork.
Weber Style 6445 Professional-Grade Stainless-Steel 3-Piece Barbeque Tool Set

The right way to round out the griller's toolbox. This 3-piece stainless steel set includes a spatula, chef's tongs, and a barbecue fork. Dishwasher safe. Made of stainless ...

Only $34.99
Weber 6433 Saucing System

The silicon brush with stainless steel handle, designed to rest perfectly on this clear measuring cup, keeps the sauce where it should be; In the cup and not on your floor.

Only $17.99
Weber Style 6452 Barbecue Apron

Delight any outdoor chef or grilling enthusiast with this attractive Weber Style barbecue apron. Made of sturdy cotton with suede look accents, the durable apron protects ...

Only $46.99
Grilling Cookware
Expand Your Grilling Options
And you thought grilling was just a matter of slapping chunks of meat onto a grate over hot coals for a designated period of time. Well, you were sorely mistaken. The current market contains a range of different pans, stands, and trays meant to expand your grilling repertoire.
Mesh grill pans. Mesh pans are great for all of the things you always wanted to try and grill, but couldn't find a good way to do it. I purchased one of these bad boys for my dad for Father's Day, and since then he's grilled chopped vegetables, fruits, and even shrimp. You can read more about mesh grill pans here.
Meat stands. Grilling food has always been a fairly straightforward process, and people who love to grill appreciate this simplicity. Still, sometimes the right tools can mean the difference between a cook happily chowing down on his creations and a cook swearing a blue streak over a pile of over- or under-cooked meat. If you know someone who cooks large quanties at once, such as for regular neighborhood barbecues, a stand that maximizes space can be a good choice; and if your chef likes to experiment with things like grilling whole chickens, a stand that's designed for that task is ideal.
Just don't forget that you can always use a beer can instead in a pinch.
Weber Style 6434 Professional-Grade Vegetable Basket

Simply chop or slice your favorite veggies, toss them in the pan, and place it on the grill along side the main entree. All the grilled flavor with none of the hassle of ...

$30.99 $30.67
Weber 6408 Style Poultry Roaster

Poultry roaster includes a non-stick roasting pan, infuser, and infusion cap. First, fill the base cup with your favorite beverage and add spices for extra zip (do not use ...

Only $34.99
Weber 6453 Style Rib Rack

Maximize grill space by standing up slabs of ribs and chicken quarters. Made of plated steel. Fits all 22-1/2-inch or larger charcoal grills and all Weber full-size cart model ...

Only $34.99
Maverick Barbecue Grill Mesh Grilling Pan with Lid

Maverick Barbecue Grill Mesh Grilling Pan with Lid Don't let your options for great grilled food fall between the cracks. Fire up delicious shrimp, vegetables or diced meats ...
Grills
Introduce Newbies, or Upgrade Veterans
It's never a good idea to talk badly about someone's cooking equipment, or to suggest that maybe it's time for a replacement. That's why it's good to tread softly when talking about a "newer" grill, if you want to ensure that you'll be invited to enjoy the fruits of your recipient's labor.
Indoor grills. Even if the most hardcore among us do grill in all kinds of weather, it's always nice to have a back-up in case of tornadoes, blizzards, hurricanes, or floods (or laziness). If you feel the thought of bringing grilling indoors would make your favorite outdoor cook's mouth water, this might be a good idea for a gift.
Portable grills. Tailgates, road trips, and picnics are all great candidates for portable grilling. There aren't always pre-built grills in the locations where you want to cook, so don't take the risk of having to stick to cold sandwiches the next time you eat outdoors.
Upgraded grills. You might think that the grill your recipient has is perfectly serviceable, but chances are good that he has his heart set on a newer, bigger, fancier model. Just don't make the purchase unless you're absolutely sure of the ideal make and style, because food artists can be very picky about their equipment.
Smokers. Some people are staunch traditionalists when it comes to grilling, but others like to try new things once in a while. For those brave pioneers, grilling is like the "gateway drug" into the world of cooking foods outdoors. Many practitioners of the outdoor cooking arts eventually graduate to other styles, such as smoking meats for flavor and preservation purposes. And if they want to do this, they'll need the right equipment to pull it off.
Cleaning and Maintenance
Give the Gift of Clean Cooking
Most people aren't that into cleaning, but when it comes to grills, many will make an exception. After all, no one wants their perfectly cooked steaks marred by the remnants of last week's supper. These may not be the most glamorous of gifts, but they are sure to be appreciated in the long run.
Grill brushes. The great thing about giving a grill brush as a gift is that they wear down over time, so you've pretty much got a repeat gift-giving opportunity. All joking aside, your recipient won't look askance at an ergonomic and stylish new grill brush.
Non-toxic cleaners. It takes a special kind of cleaning agent to clean a grate that's exposed to open flames efficiently and safely. Luckily, there are plent of natural cleansers on the market. You might want to test out a few brands first before giving one as a gift.
Grill Daddy GD12952c Grill Daddy Pro Grill Brush

The Grill Daddy Pro is a revolutionary grill-cleaning tool that sterilizes as it cleans to keep food tasting great. Just turn on the grill, fill the Grill Daddy with water, ...

Only $39.99
Weber 6448 Style Heavy-Duty Grill Brush

Weber Style Accessories, Heavy Duty Grill Brush, Stainless Steel Handle With Silicone Handle Grips, Contains 2 Removable Heads, Stainless Steel Bristles & Scouring Pad.

Only $34.99
CitruSafe Grill Cleaner

Citrusafe BBQ Grid and Grill Cleaner (23 oz) Utilizing the power of Citrus, nature's natural resource, the Citrusafe Grill Cleaner/ Degreaser has been specifically designed to ...

$13.99 $13.0
Hope You Enjoyed These Grilling Gift Ideas!
Don't Forget to Leave Your Mark
Vote in the poll below, and let us know what your suggestions or ideas are in the comments section below.
Which Do You Think Makes the Best Grill Gift?
Vote Here!
---
Disclosure: This page generates income for authors based on affiliate relationships with our partners, including Amazon, Google and others.