How to Approach Affiliate Marketing
by TerriRexson
Are you wondering how to approach affiliate marketing? For some people it just clicks, others struggle for a long time. I'll share the approach that works for me.
My Affiliate Marketing Background
Before you read an article like this, you want to know a little about the author. I've been doing affiliate marketing for about 18 months. For half of that time I also had a full time job. I didn't leave my job because I was earning a fortune! But because I could cover my expenses and could see the potential. (And I fancied a change.)
Basically I do okay. If you're looking for advice on how to earn $10k in the next month then please look elsewhere. I'll get there eventually, but it's going to take a while. 
You can check out these articles to see how I've done here on Wizzley and what my plans are for this year. (Wizzley isn't my main source of income.) 
I Love Affiliate Marketing
I love affiliate marketing. I think that's the most important thing about my approach. 
I see a lot of online writers who feel that affiliate marketing is a necessary evil to support their first love of writing. For me writing is a necessary evil to support my first love of affiliate marketing :-)
Not quite, I've grown to enjoy writing actually. I'm not a writer though. I'd barely written anything other than the occasional technical document before I started affiliate marketing. 
Others are doing it because they can't think of anything else they are qualified for that would let them work from home. Nope. I could earn a lot more money doing something else. 
Basically I get a kick out of finding cool stuff and connecting people whose life would be enhanced with said cool stuff to it. (See, really not a writer.)
Haven't You Seen the Story of Stuff?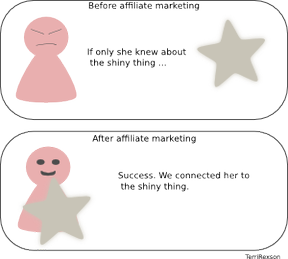 Yes, I've seen the Story of Stuff. And I also hate to think of people buying stuff they can't afford. 
But people do buy stuff. I'd rather they bought the right stuff. Stuff they will actually use or will make just the right gift. 
I love stuff. I love getting value for money. I love connecting people with the right stuff for them. 
(And I can't draw either. Sorry about that. But at least it's original.)
But what about keywords and backlinks and niches and blogs and social media?
So you thought I was going to tell you all about keywords and backlinks and niches and blogs and social media and stuff like that?
Nah. My approach doesn't rely on any of that stuff. I'm not good with niches as I get bored really easily. Same reason I don't blog. I just can't stay on topic. I write about whatever takes my fancy each day. 
And social media? I'm an introvert. You want me to actually try and shove stuff in front of people. No thanks. If that's where the game goes, I'll reassess and see if I can stomach it. 
Keywords? Hmm. I'm not convinced by all that exact match / low competition keyword stuff. That's where everyone else is. 
Backlinks? I guess that's important if you're after the same keywords that everyone else that bought hot keyword ninja 3.0 is after. I'd rather just write about more cool stuff and connect it together when that's useful. 
I think people forget to factor in the opportunity cost of these activities. If you're spending time doing all that stuff you have less time to write useful content. Plus it's not much fun, and I'm in this for the fun. 
Which Do you Think is the Most Important Affiliate Marketing Skill?
But you must have an affiliate marketing strategy
Must I? Well yeah, I have an affiliate marketing strategy. Connect people to cool stuff. Lots of it. 
I'm not after the hot keywords or the micro niches. I'm after the long tail, and lots of it. 
The reaction I'm after with my pages is:
Oh wow, that's just what I need and I didn't know it existed / couldn't find it anywhere else
Now that's what I needed to know
(I'm not looking for approval from writers who sneer at affiliate marketing. I care about stuff being useful to the target audience.) 
I want google to put my page at the top because it has almost nothing else to offer for that particular combination of words. 
There's a common myth that coming top of google for searches that almost no one is looking for is worthless. They'll trot out examples like 'books made from custard' and say it's easy to come top for that, but no one is looking for it. 
But when I started writing online I quickly realized that most of my traffic was longtail searches. Most of my traffic comes from searches that only get typed a handful of times each. But they add up. 
You need to be the person that tells them that yes, the Pea Master 64000B can go in the dishwasher. And yes, this mesh pocket on this bag is the right size for your favorite water bottle. And although this toy says from age 7+, a bright 5 year old will be just fine with it. 
This approach both provides the information they were looking for and enables them to find your page via a search engine. You don't need to hard sell them when they arrive at your page you just need to show them what they were looking for with the details they need. 
Shiny Star

This shiny star is just what you were looking for. It has five slightly rounded points and it's a bit fuzzy round the edges. It comes in a medium shade of grey and it's about 100 px tall and wide. It's offset at a slight angle - the top point is rotated about 20 degrees anti-clockwise. It comes in png format supported by all modern browsers.
How do you choose products to market?
I have two small boys who seem to have amazing instincts. If I'm stuck for something to write about I ask my 3 year old. He always comes up with something. He's done pretty well so far. 
I stick to products that I personally find interesting and either know about, need to know about or want to know about. I can't fake it. You won't find me writing about Justin Bieber's favorite socks even if it does get 10000 hits a month and only 7 exact match results in google. 
Basically don't follow any of the strategies you read in eBooks or articles by gurus. That's what everyone else is doing. You need to find your own way. 
I have an endless capacity to be interested in stuff. I can read the IKEA catalog for hours. I'll page through the slowest of online stores just to make sure I didn't miss any cool dinosaur toys. I love technology and will happily pore over detailed specs and watch shaky YouTube videos to find that missing bit of information. I used to do this sort of thing as a hobby, who would have thought it could turn into a commercial skill! 
I don't live in the US and I don't watch much TV so I I'm probably pretty slow to pick up on popular trends. But then I'm rarely interested in popular trends. As long as a reasonable number of people are looking for what I'm writing about, I can make some sales. 
Then if something is working, I'll do more of it, until I get bored! And I keep an eye on what I am selling to spot new trends. Ooh that's three people this month that have bought plush Furious Pigeons, I wonder if that's worth writing about. 
But if the subject doesn't interest me I'll leave it alone. I'm sure it shows through if you're writing about stuff just because it's popular. And I'm doing this because it's fun. I can't churn out articles on stuff that bores me. 
Where's the bit where you sell me an eBook or some software or send me to your blog for more info?
Ah, I didn't really think that through did I?
Um, you could try this Dragon Dust. It's the secret to affiliate marketing that you've been looking for. 
It won't work but it will momentarily distract you from feeling guilty about not getting on and writing some useful stuff. 
The secret ingredient you've been looking for
---
Disclosure: This page generates income for authors based on affiliate relationships with our partners, including Amazon, Google and others.