Lego Men Minifigures
by SeanMac
Lego minifigures have become very popular as collectibles since they were first introduced many years ago. Lego minifigs are tiny and can be concealed easily in a closed fist.
Two inches high
Lego men are small and can be pricey if you want specific characters such as Batman, Harry Potter, Superman or similar. The newest figures have the correct flesh tones and facial features (including hairstyle) and this makes them readily recognizable in the building brick community. Comic book heroes and movie stars are appearing as Lego men (and women) and are very collectible.  
Mystery Lego People
About 5 years ago Lego introduced dozens of these small Lego men as separate salable items in their own individual packaging (foil bags). Each character had a weapon or two with them. Non violent ones had appropriate wrenches, hats, skis, umbrellas and such like accoutrements instead of swords and shields. Each series launched had 16 totally different men (and Lego women) to collect.
Random choice: They were cheap Lego but it was a bit like buying a pig in a poke because you did not know which person you would get. It reminded me of the olden days when we had lucky bags with mysterious goods inside them. The first series was so successful that several more 16 set mystery-buy Lego products were produced.     
Lego Minifigures Series 6
LEGO Minfigures from the various series
A selection of Lego men and women from past series
Lego Minifigures Series so far
Lego Minifigures Series 8 and 9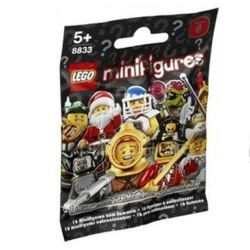 There have been 9 series so far. Each one contained 16 different minifigs to collect. The only exception was the special Olympic Minifigures which only contained 9 figures. It is best to have friends who also collect the same series as this allows you to trade your duplicates. You will ultimately find that you will purchase a figure that you already have. The bag containing the new figures are sealed and you do not know which figure you will get until you have made the purchase. A Lego Minifigures Series 8 Random Pack is shown opposite.
Please ignore advice on 'feeling' the packaging beforehand to try to guess which figure it contains. It simply does not work and the store assistant will not be too pleased either. Just take your chances and make sure you have friends willing to trade with you. The figures below from Lego Minifigures Series 6 and 5 are typical examples of what you can expect.
Lego minifigures run from Series 1 to 9
Series 8 released August 2012 and Series 9 was the Olympic special minifigures for London 2012
More expensive figures
Well known character figures cost more than generic minifigures
These small 2 inch superhero Lego figures cost more than $10 each, which is expensive for a very small amount of Lego. Larger scale Lego figures have been launched too. Fans of DC and Marvel comics will still want these unique figures and I expect the price of these collectibles to remain constant. Lego are very quick to the market place with new minifigures such as Superman and Batman, and do look out for this years Hobbit Lego, launched to tie in with the movie later in the year. Younger children, however, will be more than happy to open a mystery pack to find a new figure to love.
---
Disclosure: This page generates income for authors based on affiliate relationships with our partners, including Amazon, Google and others.