My Omega J8006 Review
by optimist
My honest review of the Omega J8006 juicer. This juicer is not for everyone. There are some things it does very well, but...
The Omega J8006 is Omega's premium horizontal masticating juicer. While it is cheaper than the Omega VRT350HD by around $100 (depending on where you shop), it has some pros and cons compared to the VRT350 and other masticating juicers.
Pros And Cons of The Omega J8006 Juicer
First of all, the Omega J8006 is horizontal rather than vertical - meaning it will take up more space in your kitchen. Avid juicers recommend having a "juicing station" where you leave out all your juicing tools, such as a chopping board and your juicers. However, if you want your juicer to occupy just a tiny place on your countertop then you will prefer vertical juicers with a smaller base like the Omega VRT 350.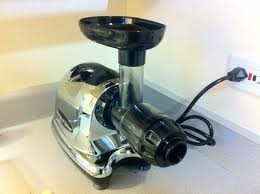 Design issues aside, the j8006 is a great juicer. It's a masticating juicer and uses Omega's special low speed juicing technology of 80 RPM. This low speed ensures that the juicer and the juice stay cool, enzymes stay intact and the juice is not oxidized. One of my friends who also uses this juicer mentioned that it took apple juice a lot longer to start to go brown. The J8006, like the VRT350, produces very little foam. The colors and taste of the juice are very strong.
 
Like the VRT350, the J8006 uses a GM Ultem auger which is much stronger and more durable than other augers commonly used in masticating juicers. Infact, it is 8 times stronger than the augers used in the J8003 and J8005 models. Speaking of things under the hood, the J8006 comes with a 2HP equivalent induction motor and has separate screens for juicing hard and soft item. The parts are small and removable, which makes them easy to clean. Clean up is easy, but I highly recommend that you disassemble and rinse right after juicing - this prevents staining from colored fruits and vegetables like carrots, and makes it easier to just rinse off and clean everything.

One negative of the J8006 is the relatively narrow 1.5 inch opening. The size of this opening means you will have to chop up fruits and vegetables into smaller pieces. It's a good idea to simultaneously prep and juice. Despite the need to prep items, the J8006 is arguably the best juicer for juicing greens, especially wheatgrass.

In addition the J8006 can be used for additional food processing tasks. For instance it can make nut butters from nuts and is very versatile.

Here is what the manufacturers have to say about the Omega J8006:

The Omega Model 8006 Nutrition Center is a single gear masticating juice extractor. Using a low speed of 80 RPMs results in minimal heat build up and oxidation promoting healthy enzymes and longer lasting juices. Designed and engineered for health-conscious individuals who want a greater variety in their daily juicing routine, this 8006 has the ability to also juice everything from wheat grass and leafy greens to fruits and vegetables. Not just for juicing, the Nutrition Center turns nuts into nut butters, extrudes pasta, grind coffee and spices, mince herbs and garlic, make baby food and frozen desserts, and extrude soy milk. The 15 Year Warranty the longest in the Industry – guarantees you've purchased "the last juicer you will ever need to own."

Source: http://www.omegajuicers.com/skin/frontend/default/omega/images/spec_sheets/juicer_8006.pdf

The Omega J8004 is the same as the Omega J8006, but comes in an all white design, unlike the J8006 which is black and chrome. The J8005 and J8003 are similar to the J8006 and J8004, but they do not have a GM Ultem auger and come with a 10 year warranty instead of a 15year warranty.


Video Review Of the Omega J8006 Juicer
More Omega Juicers You Might Like
Omega J8006HDS Nutrition Center Quiet Dual-Stage Slow Speed Masticating Juicer Makes Fruit and Ve...

The Omega J8006 nutrition center is a masticating style juicer. Sometimes referred to as a low speed juicer, the nutrition center processes at 80Rpm, whereas most other juicers ...

$320.00 $251.10
Omega NC800HDS Juicer Extractor and Nutrition Center Creates Fruit Vegetable and Wheatgrass Juice...

Omega's Nutrition Centers are "masticating-style" juice extracts and more. A masticating juicer juices at low speeds of 80 RPM minimizing heat build-up and oxidation. The auger ...

Only $303.51
Omega MM900HDS Slow Masticating Celery Juicer, 200 Watt, Silver

Ignite your health with natural celery juice that detoxifies, improves digestion, provides a natural boost of energy and so much more. The MM900HDS is a low speed masticating ju...

Only $299.95
Omega VSJ843QS Vertical Slow Masticating Juicer Makes Continuous Fresh Fruit and Vegetable Juice ...

The Auto-Cleaning system keeps the screen clear, increasing the machines efficiency. After you are finished juicing, The Auto-Cleaning system minimizes the clean-up process. The...

Only $429.86
Omega NC900HDC Juicer Extractor and Nutrition Center Creates Fruit Vegetable and Wheatgrass Juice...

Omega's Nutrition Centers are "masticating-style" juice extracts and more. A masticating juicer juices at low speeds of 80 RPM minimizing heat build-up and oxidation. The auger ...

$379.95 $330.00
Omega VRT350 Vertical Low Speed Juicer, 150-Watt, Silver

The patented screw design of the auger is more efficient when squeezing and pressing ingredients to extract juice. The hopper is conveniently located at the top of the juicer. T...

Only $229.87
---
Disclosure: This page generates income for authors based on affiliate relationships with our partners, including Amazon, Google and others.