Using a Tablet or iPad in the Kitchen
by TerriRexson
Using a tablet or iPad in the kitchen is a great idea! Get some ideas for keeping your iPad or tablet safe in the kitchen and making it convenient to use.
Recipes on a Tablet
We got two tablets as family Christmas gifts to share with the kids. I'm loving having a tablet. One of my favorite uses is displaying a recipe on my tablet in the kitchen. 
I used to either print out recipes (a waste of paper) or keep popping back to my laptop to check on things - very incovenient!
Now I take my tablet to the kitchen with me and just read the ingredients and instructions of the screen. But I have a few problems to solve ...
A Recipe on My Tablet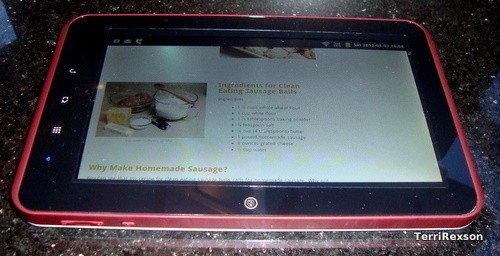 Recipe on Tablet PC
What was I cooking?
Jimmie's very tasty Clean Eating Sausage Balls
Problems with Using a Tablet in the Kitchen
Using my tablet in the kitchen was a big step forward from my previous approaches for following recipes from the web or from eBooks. But there were some problems. 
Having my tablet flat on the worktop just about worked but it wasn't ideal, really I need a stand to prop it up at a convenient angle. I tried propping it up but it didn't feel very safe. It was also in danger of getting covered in flour, tablets don't really like that. It was also a bit too reflective at that angle (actually I was impressed with how readable it still was.)
I needed to keep scrolling the page to read more - but my hands were covered in sausage ball mix! I just about managed by washing my hands in between, but a stylus that I can use in the kitchen seems like a good idea. 
Reading recipes from my tablet worked so well that I'm going to have to solve these problems. 
So I went looking for a solution, I couldn't be the first person with this problem. And I found a great choice of solutions for using your tablet or iPad in the kitchen. 
Belkin Kitchen Stand and Wand for Tablets
Kitchen Stand with Wand
The Belkin Kitchen Stand with Wand is the most complete solution. This is a new product from Belkin designed specifically to make it safe and convenient to use your tablet or iPad in the kitchen. 
The stand has a non-slip base and two viewing angles. A low one which is convenient to look down on and a more upright angle. 
This set also includes a wand or stylus in a stand. This solves the problem of needing to touch your tablet when you have messy hands. You can use the wipeable stylus instead. 
This tablet or iPad stand gets very good reviews from happy cooks. And it also looks gorgeous and modern. This is a key criteria for my kitchen! 
A kitchen tablet stand makes a great gift for a cook with a tablet. (If they don't have a tablet yet, then that makes an even better present!)
A Waterproof Case
I also found some other attractive tablet and iPad stands designed for use in the kitchen. But they don't have a stylus. You might get away with just a screen protector if you're not making anything too messy. But if you're going to have your hand in pastry or poultry on a regular basis then a waterproof case might be worth getting!
This Waterproof case is designed for the iPad but can be used with other tablets too. It's often used for outdoor sports but it works just as well in the kitchen. 
Waterproof Case for iPad / Tablet
More iPad and Tablet Stands for the Kitchen
Kitchen iPad Rack
Works for Tablets too
Kitchen Cabinet Mount for iPad 2
Belkin Fridge Mount for iPad 2
Wooden Stand for iPad / Tablet
I hope you found the right iPad or tablet stand for your kitchen. 
Are you wondering what my nice red tablet is?
---
Disclosure: This page generates income for authors based on affiliate relationships with our partners, including Amazon, Google and others.