What are the top 5 Kid-Friendly holiday destinations in the US?
by annieangel
When plan for your family vacations it helps to know your destination is kid-friendly. Here are the top 5 kid-friendly destination in the US.
Top 5 kid-friendly holidays
US vacation destinations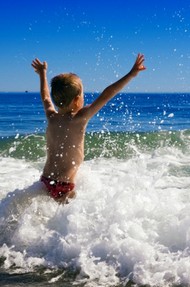 Whether you already live in the USA or are planning to visit there for a family holiday, one thing you will be considering is how kid-friendly your destination is.  To make your choice easier, this articles details the top 5 US family vacation destinations right now. 
The list includes Disney World in Florida, a popular choice for visitors from the UK and Europe; a dude ranch in Colerado and the largest rodeo in the world, New York, Hawaii and Las Vagas.
There is plenty to choose from and something here to suit everyone and every budget.   
Image: chrisroll / FreeDigitalPhotos.net
Disney World
Top family holiday destination
Disney World.  Top of the list has to be Disney World.  Undoubtedly this is the ultimate family holiday with everything you need in one huge area.  And it is not just for the kids: adults too will be clambering to join in and check out the attractions including the Epcot Center and Sea World, the Disney Village and Universal Studios.  Visit the Water Parks and Wildlife Parks. 
You have the option of staying in accommodation on site or there are plenty of places within a short distance. 
Whichever you choose, there is no end to the onsite amenities and activities to keep all the family entertained.  Time will fly and the kids will want to go back time and time again.
To save money check out online travel companies who offer special package deals as well as flights and so on.  Also choose a hotel that offers free stay for children under a certain age.  Some will even supply free meals for very small kids.
Sylvan Dale Guest Ranch Colerado
#2 best family vacation
Sylvan Dale Guest Ranch.  Have you considered visiting a dude ranch?  There are plenty to choose from stretching from Alaska to Wyoming.  These make great kid-friendly holiday destinations.  One in particular stands out and that is the Sylvan Dale Guest Ranch in Colorado which lies about 20 miles from Rock Mountain National Park. 
Activities range from riding and hayrides to nature walks and wildlife watching.  The ranch prides itself on it's 'Green' practices from how they rear their cattle to how they look after local wildlife.  The kids will learn first hand how it all works together. 
On site there are plenty of amenities to please everyone.
Nearby you can enjoy visiting historic sites such as Fort Collins, Old West Museums, and then there is Cheyenne with the largest rodeo in the world in July.
Hawaii
#2 favourite family destinations
Hawaii.   If a beach vacation is what you are after, consider Hawaii.  
Try Maui rather than Oahu for a family vacation.  More than any of the other islands, Maui is very kid-friendly. In season there is an opportunity for whale watching and visits to the famous whaling village of Lahaina.  Maui Ocean Center is well worth a visit and it houses the largest aquarium in Hawaii.  
A trip on the Sugar Cane Train is a must as is a visit to the waterfalls at Oheo Gulch. You can all spend a day in Iao Valley with the Iao Needle or visit black-sand beaches at  Waianapanapa.  Even the names make you want to explore.
Hawaii cannot be beaten for glorious weather, sunsets and clean beautiful beaches. You won't be able to keep the kids out of the water and this is a great place to spend time with each other.
New York
#4 for family vacations
New York.  If you would prefer a city holiday, it has to be New York.  Nowhere else in the world is quite so exciting.  This is the place that has something for everyone.  You will never run out of things to do and places to visit.  
Broadway hosts shows suitable for adults and kids alike and often the matinee prices are cheaper than evening ones anyway.  Spend hours in the Rockefeller Center, visit Radio City Music Hall or Madison Square Garden.  Of course the Empire State Building is a must-see as is the iconic Chrsyler Building.  Then there is the Village; 42nd Street, the Theatre District; more museums than you can shake a stick at to say nothing about the shopping and unlimited eating-places.
Why not spend the day along Fifth Avenue with a stop to see St. Patrick's Cathedral.  You can take a tour of NBC Studios or spend the day in Central Park with a visit to check out the zoo there.  Don't forget South Street Seaport.
There is a huge choice of accommodation too.  Even if you pick one out of the center, you will still find yourself in close proximity to historic sites, entertainment and amenities.  The kids will love exploring this whole new world.
Planet Explorers Walt Disney World 2012: A Travel Guide for Kids

2012 UPDATES include dozens of new photos and updated attractions information!Explore the planet with this Walt Disney World guidebook written just for kids. This fun and ...

Only $3.99
Frommer's Colorado (Frommer's Complete Guides)

Rocky Mountain National Park offers year-round opportunities for seeing wildlife. See chapter 11. Free pocket map inside,plus easy-to-read maps throughout Exact prices, ...

$4.95 $3.89
Maui Revealed: The Ultimate Guidebook

The finest guidebook ever written for Maui and the only one written by a writer who anonymously reviews the island. He visits every beach, restaurant, activity and trail on ...

$13.83 $1.18
Top 10 New York City (EYEWITNESS TOP 10 TRAVEL GUIDE)

DK Eyewitness Top 10 Guides make any destination accessible by offering dozens of lists of the 10 best restaurants, bars, neighborhoods, hotels, local attractions, and much ...

$1.69 $9.0
Everything Family Travel Guide To Las Vegas: Hotels, Casinos, Restaurants, Major Family ...

Get ready to plan the family adventure of a lifetime! With more than 35 million people flocking to Las Vegas last year, the city is a hot spot for the traveling family. And ...

Only $37.96
Las Vegas
#5 - ideal family vacation
Las Vegas.  You may not have thought Las Vegas a suitable place for a family vacation – if not, think again.  In fact the city offers a wide range of attractions for kids.  It is no accident this is among the top 5 family destinations in the US.  It is also one of the most affordable holidays.  Most hotels can be booked in package that includes meals – all you need to do is decide on which best fits your budget.  

Wh

at can you do in Las Vegas?  Well there is M&M's World, the Lion Habitat at MGM, Adventure Canyon, Game Works which is a video game-playing wonderland, Sports Park, Circus Circus rides; Dolphin Habitat at the Mirage hotel; Shark Reef; New York, New York's roller coaster; Madame Tussaud's wax museum; Lake Mead; the largest Children's Museum in the US  and Adventuresdome, which is the largest theme park in the U.S.
A lot of the attractions are free, all you need to do is check and set out your own itinerary. 
More articles by AnnMackieMiller
Writer and photographer
Which would be our preferred destination?
Take a minute and take the poll
Travel destinations in Scotland
By AnnMackieMiller
Visiting Scotland: St Andrews
St Andrews is famous as the Home of Golf, yes this is where it all started. It lies on the east coast of Scotland and is a charming place to visit.
Edinburgh's Favourite Dog
Greyfriars Bobby was a wee dog with a huge heart. From the day his master was buried until the day Booby also went to meet his maker, the faithful terrier never left his master's grave. oh he would leave for meals supplied by locals and would occasionally take shelter in foul weather, but for years he lived and slept on the grave.
---
Disclosure: This page generates income for authors based on affiliate relationships with our partners, including Amazon, Google and others.