What is UNESCO
by Michey
UNESCO is an agency under United Nations with a large spectrum of activities. My goal in this article is to give an example I know of World Heritage Sites and spread the word.
Introduction - Definition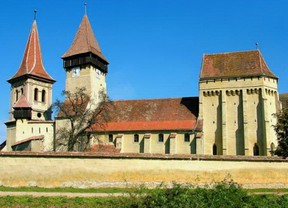 It is an acronym of United Nations Educational, Scientific and Cultural Organization (UNESCO).
Just from the title you notices that UNESCO has many faces, and purposes.
It is an international effort on educating through science, culture and is functioning as a specialized agency under United Nations.

Just a short list of UNESCO programs: 
Education 
Natural sciences 
Social and human sciences 
Culture 
Communication and information
Just a short list of projects sponsored by UNESCO:
Literacy
Technical, and teacher-training programs
International science programs
Promotion of independent media and freedom of the press
Regional and cultural history projects
Cultural diversity promotion  
International cooperation agreements to secure the world cultural and natural heritage 
Preserve human rights and so on  
Note 1 : The above 2 lists are created from Wikipedia information.
So I give you those two lists just to make a point that it is hard to give the perfect definition as UNESCO embraces at global level so many purposes and so many broad subjects.
I take just one example I am familiar with, to explain its purpose and value, I make as intuitive as I can, and comment on it.
Note 2: By the way, If you want to know which UNESCO sites exist in your country, this is the link to look it over, click first on UNESCO World Heritage Site then click on Lists of World Heritage Sites you are interested in.
Note 3: Do you Wizzle? If you don't, I encorage you to try it, let's do it togheder. 


World Heritage Sites in Romania
"World Heritage Site" is a program which creates a list of sites of outstanding cultural or natural value of heritage.
A huge effort was done to catalogue those places with the porpose in mind to conserve them for humanity.
We always know that if a site is declared a "UNESCO World Heritage Site" it really is a place of special cultural significance. 
A lot of countries have "World Heritage Sites"  but I take an example I know because it is part of my own heritage.
I present to you 7 Romanian UNESCO sites:
Danube Delta 
Churches of Moldavia 
Monastery of Horezu 
Villages with fortified churches in Transylvania 
Dacian Fortresses of the Orastie Mountains 
Historic Centre of Sighisoara 
Wooden Churches of Maramures 
1. Danube Delta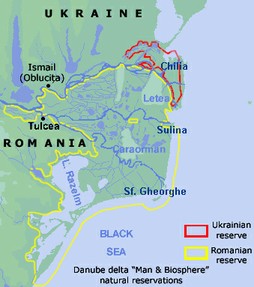 The waters of the Danube, which flow into the Black Sea, form the best preserved of Europe's deltas. The Danube Delta is the second largest river delta in Europe, after the Volga's Delta.
The approximate surface is 4152 km², of which 3446 km² are in Romania, the rest are in Ukraine.
The Danube Delta is mostly covered by wetlands and water marshes, channels, streamlets and lakes. It has 3 branches: Chilia, Sulina, and Saint George.  
At the mouths of each channel we can see that a gradual formation of new land takes place, so the delta continues to expand and the figures I give are really an approximation as I have stated above.
The Danube Delta has an east European steppe ecosystem, with Mediterranean influences.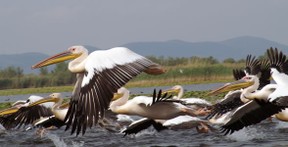 It represents a great place for the development of highly diverse flora and fauna, unique in Europe, containing numerous rare species.
The Danube delta hosts over 300 species of birds as well as 45 fresh water fish species in its numerous lakes and marshes.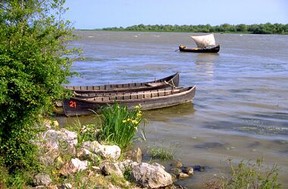 It also has a unique combination of:
ecosystems of running water (Danube arms, as well as  streamlets and channels)
ecosystem of stagnant water (lakes, ponds)
ecosystems of marshy and flooding areas, and 
River banks and levees ecosystems which are the firm land of the delta.
Enjoy the pictures.
Danube Delta has been World Heritage Site  since 1991.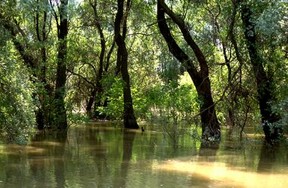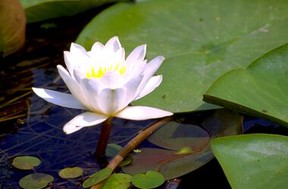 2. Churches of Moldavia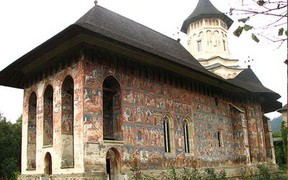 The painted churches of northern Moldavia are Romanian Orthodox churches in Suceava County, Romania in northern Moldavia. 
The paintind is outdor and indor and it is a miracle how outdor paintings are stil visible and an a decent condition.
This is the list, all of them are since 1993 architectural monuments part of UNESCO's World Cultural Heritage patrimony. 

Sites: 
Built in1503, Church of the Beheading of St. John the Baptist, village Arbore
Built in1530, Humor Monastery, village Humor
Built in1532, Moldoviţa Monastery, village Moldovita
Built in1487, Church of the Holy Rood,  village Pătrăuţi
Built in1531, Probota Monastery, village Probota
Built in1522, Church of St. George, village Suciava
Built in1487, Voroneţ Monastery, village Voronet
Built in1583, Suceviţa Monastery, village Sucevita
The best reference is to look over my Squidoo lens, where you will see a good part of them:
http://www.squidoo.com/Romanian-monasteries-churches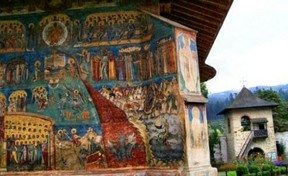 3. Monastery of Horezu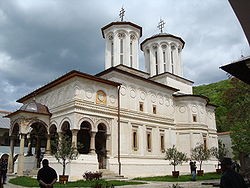 The Monastery of Horezu Horezu is the most important monastic site of Wallachia Romania. It was founded in 1690 by Prince Constantin Brâncoveanu in the town of Horezu, Romania.
It is considered to be a masterpiece of "Brâncovenesc style" also called "Brâncovenesc  Art". This is the only true and original Romanian style, known for its architectural purity and balance, the elegance of its carved decorations, and its painted decoration elements.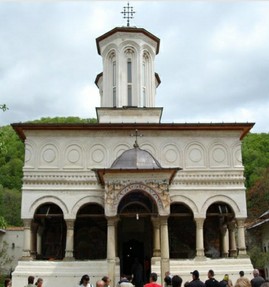 This is the front entrance of the Monastery, the Brâncovenesc palace and many houses was build on the same style but not all of them survive the passing time.
4. Villages with fortified churches in Transylvania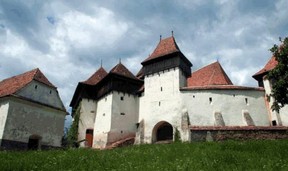 If you grow up with Dracula Stories you will enjoy this module.
Starting on 13th century Transylvanian villages were often organised around a fortified church as being situated in a region under threatening of  the Ottoman and Tatar invasions.
It is amasing that from 300 fortreces, 150 still exist in decent condition, well preserved, they was built from the 13th to 16th centuries.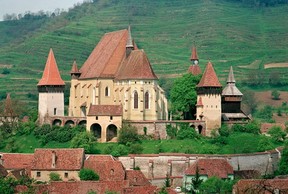 Seven of them are part of UNESCO World Heritage Site: 
Biertan
Câlnic
Dârjiu
Prejmer
Saschiz
Valea Viilor
Viscri
To find out more info about those fortreses, pleast look at
Romanian Heritage - Middle Age
Enjoy the Middle age values.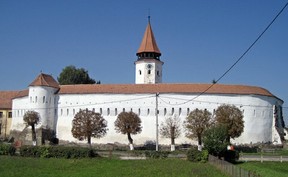 5. Dacian Fortresses of the Orastie Mountains
As protection against Roman conquest, that formed the defensive system of Decebal, the six Dacian Fortresses of the Orăștie Mountains, in Romania, were created in the 1st centuries BC and AD.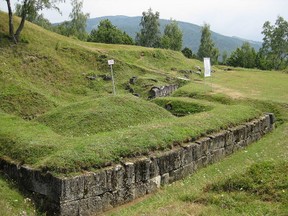 So not much is left, but how much still exists is precious and they are declared UNESCO World Heritage Site in 1999:
Sarmizegetusa Regia - was the capital and the an important military, religious and political center of Dacians
Costeşti-Cetăţuie 
Costeşti-Blidaru
Piatra Roşie
Băniţa 
Căpâlna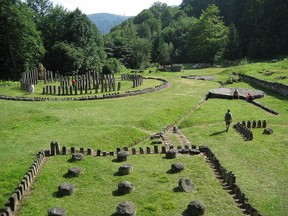 6. Historic Centre of Sighisoara Town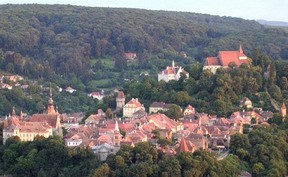 One of my favorit old town in Transilvania, Sighisoara Citadel is an historic center of the Sighisoara town, built in the 12th century.
It is an medieval citadel that, in 1999, was declared a UNESCO World Heritage Site for its 850-year contribution to the history and culture of the Transylvanian.
7. Wooden Churches of Maramureş
Maramureş is one of the better-known region of Romania for its well-preserved wooden villages and churches... it is a living museum. 
The wooden churches of the region that still exist were built starting in the 17th century to 19th century.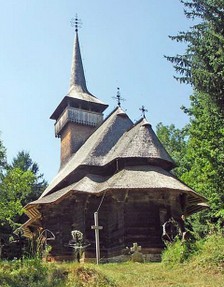 Eight of wooden Churches were listed by the UNESCO as World Heritage Sites in 1999,
These are:
Bârsana
Budeşti
Deseşti
LIeud
Plopiş
Poienile Izei
Rogoz
Şurdeşti.
The most characteristic features are the tall tower above the entrance and the massive roof, it was created so tall on purpose - to be visible from entire village.
In Maramureş today Romania still has around 100 wooden churches which still stand, this is about one third of their total which exists two centuries ago. I visited them and I was impresed how better preserved they are.
A Complete List of my Heritage Posts
Middle Age Fortresses
Middle Age fortresses in old towns in Romania , a part of them are declared by UNESCO, World Heritage Sites.
Romanian Monasteries and Churches
Romanian Monasteries and Churches built in 15Th - 16Th centuries which still have outside original paintings in a good condition.
Cantacuzino Castle
The Cantacuzino Castle of Busteni built by Prince Gheorghe Grigore Cantacuzino. He was a Conservative Romanian politician who twice served as the Prime Minister of Romania
Romanian UNESCO Sites
It is an international effort on educating through science, culture and is functioning as a specialized agency under United Nations.
Do you Wizzley?
If you don't,
we cordially invite you to join us,
click here or click on image.
---
Disclosure: This page generates income for authors based on affiliate relationships with our partners, including Amazon, Google and others.