Setting Up Wordpress
by Michey
The settings of Wordpress are important as they carry over many nuances, not all of them are really explored. In this post I respond to a reader question, so I presume it is useful
Why Setting Up Counts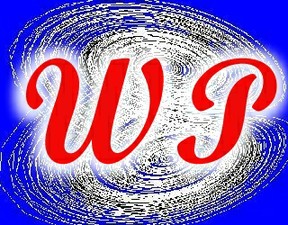 This post was created as a response of a reader question - how we can get rid of the date of a post, and what is a "calendar".
So I do my best to respond, and I intend to explain the best practice of the general settings of a blog with emphases on permalinks.
Note: It is clear that my response is based on be personal experience and my way is not the single way...  so I bet that talking with a lot of bloggers you will get a lot of other ideas and techniques as well.
I already stated in other posts that  Wordpress platform is blessed with a huge amount of functionality which is coming from a variety of sources:
The plug-ins
The theme itself
The widgets
The design as a whole, details beyond the theme functionality
The general settings, and the settings of plug-ins
There are so many possibilities, but the cold hard truth is that some parameters can contradict each other, so sometime we don't have a glove fits all, and we must take one case at a time.
I have had a big surprise loading the last version of Wordpress... which is not compatible with "Tweet this" plug-in. I spent a lot of time with this simple bug until I was able to determine the source of errors... and so on.
Note: People are talking a lot about monetizing Blogs. In a nut shell, monetizing is part of the above classification. In addition of having good content which will attract viewers, the design must have the readers/customers in mind: their needs, their habits; must be user friendly, SEO friendly... so any itty bitty piece of knowledge, and any twist counts.
Wordpress Admin Settings
When you go in "wp-admin" you have in the left a long list of menus, each of them can expend in sub-menus:
Home
Posts
...
Appearance
Plug-ins
...
Settings
We are interested in "Settings" which expends in the following sub-menu (generic bullets):
General
Writing
Reading
Discussion
Media
Privacy
Permalinks
In the right you see an example from an old Blog which has all the above until the red line, and a long list of settings which are coming from different plug-ins or widgets.
Keep reading, I describe in short the first 6 generic bullets and in details Permalinks
Setting Example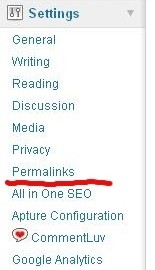 Settings Part 1
Settings Part 2
General to Privacy
General:
it is a place to fill in: Blog's name, Tagline of the Blog, URL address of the Blog, Time and Date format and so on.


It is trivial but the date format will appear under line of Title, in this case "July 9, 20011"
What you can do is
unmark the first bullet which is the default
mark Custom line where you can delete the year  symbol, exactly like you see in the next picture. I am not doing this but I notice some Blogs with this modification

Note:
I don't think hiding this date is a great idea, the system itself don't let us un-mark all the possibilities... for a reason. So to completely get read of that date, you must go in one .php and alter this. Again I don't recommend, and if you want to do it I strongly suggest that you have to know some  .php, have an .php editor, always copy the original and keep it, then make the changes and replace the original.
All those precautions are necessary because it is extremely easy to mess up a .php file, you need to at least know to read and interpret this language... to be on the safe side.
Writing:
In this section I modify:
Size of the post box (in the editor) - I use 20 or 25 lines
Update Services - When you publish a new post, WP automatically notifies the sites from update services, the default is very small, I have a long list up there which is almost like the list from ping-o-matic and
I live the rest with the default
Reading, Discussion, Media, and Privacy:
It is up to you, it is self explanatory, the default is good to have it.
Permalink Settings
What are permalinks?
Permalinks are the URLs for your blog posts and we have called them permalinks as the URL to a blog post didn't change and remained unchanged forever, so permalink is a great choice.
With other words, a permalink is what another website will use to link to your post or page.  
In WordPress, the default permalink looks like:
http://your-domain.com/?p=nnn
I hope you agree with me that this is ugly, not user friendly, not Search Engine friendly as well.
Some point Bloggers started to think about having more keywords in the URL, so other forms to present permalinks surfaced:
your-domain.com/Year/month/Day/postname  
or

your-domain.com/category/postname

the last one is consider the best URL as the "category" is definitely a great keyword, and you can compose "post name" to have other 1-3 keywords in it.
But the variety of URL from permalinks is bigger then the above 3 examples, you can create any combination of the following  paramertes:
%year% The year of the post, four digits
%monthnum%  Month of the year
%day%  Day of the month
%hour%  Hour of the day
%minute%  Minute of the hour
%second%  Second of the minute
%postname%  The name post
%post_id%  The unique ID # of the post, for example 123
%category%   The category name. Nested sub-categories appear as nested directories in the URL
%author% The author name
NOTE: You can use any parameters or a combination of parameters in permalinks, each parameter is written between "%", and parameters will be separated with a "/".
Example:
http://your-domain.com/%category%/%postname%/%author%/
In the next picture you have an example.
An open question remains - "if I change my permalinks today, I know that future posts will use it, but what happen with my old posts"?
The answer is - we have a plug-in which will take care of this "WP No Category Base"
As the name suggests this plugin will completely remove the mandatory 'Category Base' from your category permalinks so old post will look with category, but will be called with the old permalinks as you probably don't iven know from where old posts are called, and you still like to have those links.
This is a priceless plugin and all you have to do is to install and make active the plug-in:
it will not require setup or modifying wordpress files
it will not break any links
The decision is yours, all I did was to provide information for you, and tell my honest opinion.  Working with a diferent structure of permalink will profide more keywords, about the date in "general" be careful not to look like you have something to hide.
To your success
Michey
Example of Permalinks

Example of Permalink Structure
What is the Calendar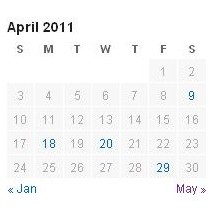 The Calendar is a widget which we use to put in the right or left sidebar, it will visualize when you write your posts in which month. In the example, in Aprill 2011 on 9, 18, 20, and 29 I write my posts.
You also can scroll to see other months.
Note:
Based of the theme you use, you have it already as a widget, and all you have to do is to drag the Calendar into sidebar, or you have to load a plug-in to have the calendar if the theme don't offer this widget for you.
More Knowledge About WorldPress
WordPress Bible

Get the latest word on the biggest self-hosted blogging tool on the marketWithin a week of the announcement of WordPress 3.0, it had been downloaded over a million times. Now ...

$5.96 $2.5
Smashing WordPress: Beyond the Blog (Smashing Magazine Book Series)

Smashing WordPress shows you how to utilize the power of the WordPress platform, and provides a creative spark to help you build WordPress-powered sites that go beyond the ...

Only $11.6
Michey's Posts on WordPress
WP is the best platform for Blogging - period.
WP Content Management System
Wordpress is not only for Blogging, it really is a CMS, and the diversity of functionality is impressive. You will find out what you can do with WP in addition of creating Blogs.
WP Email for a Specific Domain
I have had a question about setting up an e-mail for a domain in Wordpress. So I try to respond in a post, a comment is to restricted for the answer.
Wordpress Plug-in Part 01
Being and open source, WP is enhanced daily with new plugins and themes. So when we think that our Blogs are stable, new ideas and functionality via new plugins is added... as we speak.
Wordpress Plug-in Part 02
This post is dedicated to give you a solution if a server crush or other calamities destroy your Blog. I add some miscellaneous plugin topics as well.
Wordpress Help
Wordpress platform is well established now, but some professorial help to get better is still a need, so I present sources of knowledge written by successful bloggers and Web Site designers.
Do you Wizzley?
If you don't use this platform,
we cordially invite you to join us,
click here or
click on image.
---
Disclosure: This page generates income for authors based on affiliate relationships with our partners, including Amazon, Google and others.