Super Angel 5500 Living Juice Extractor Machine Review
by optimist
The Super Angel 5500 is one of the best juicers out there, and certainly one of the best twin gear juicers available. But is it right for you? Find out...
If you're looking for the best of the best when it comes to juicers, then you will want the Super Angel 5500 Living Juice Extractor. This is known as the Rolls Royce of juicers and in this review I'll try to explain why. I should of course add that I own one myself and I love it to bits. The Super Angel 5500 juicer is often compared to the Norfolk juicer, however the Norfolk costs over $3000 and I have never owned one myself, so I can't compare - however, I've heard that the Norfolk takes longer to clean.
Buying A Super Angel 5500 Juicer?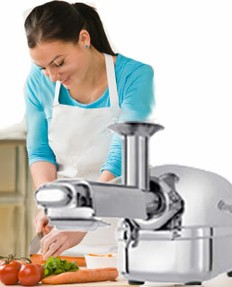 Right off the bat, you know you are in good hands with the Super Angel when you hear one reviewer on Amazon saying "if you are serious about juicing but can't afford the Super Angel, start saving!" Of course this is not always possible for many people who want to start juicing right away and in that case a good choice is the more affordable Omega juicer. I would not recommend buying an inferior twin gear juicer.

The Super Angel 5500 is a twin gear triturating juicer which means that the juice is produced slowly in two stages. This is the most important reason why the Super Angel 5500 is the best juicer available on the market. The juice it produces is much superior in quality. It preserves the enzymes and prevents oxidation. It is a low temperature juicer which also prevents the juice from getting heated and oxidized.

Another good thing about the Super Angel is the fact that it is the most efficient juicer I have ever encountered. The pulp residue that remains when using the Super Angel is extremely dry. If you're a serious juicer this will save you money over the long run since you will be making more juice from the same amount of produce. The quality of juice that the Super Angel makes means that you will be getting a lot more nutrition as well.

The Super Angel 5500 also produces very little foam - most users have less than 2% foam in their juice. The amount of foam in your juice might not matter to you but if you're like me and hate foam on your juice (and you probably throw it away like I do, in that case) then a juicer that produces less foam is very important.

Another benefit of using this juicer is that it is incredibly easy to clean. Because there are less parts the overall clean time is very little - most users are done cleaning the Super Angel in less than five minutes. When I time myself I find that it takes me one minute to rinse the screen and scrub it with the brush provided, and another two minutes to wash the other parts. Clean time is a very important factor for me since I juice every day, and I don't want to waste time cleaning. I recommend cleaning your juicer immediately after you've made your juice - this way it's easier to get everything off.

Another thing that I love about the Super Angel is how easy it is to assemble and disassemble. When you juice on a regular basis, the total time for juicing is very important. However one negative of the Super Angel is that you will need to spend some time prepping your food, this will add an extra minute or two. In addition, the juicer is a slow-speed juicer and it will create your juice slowly. The slow speed means you get increased nutritional value, however if you are in a rush when you make your juice, you might prefer the Breville centrifugal juicers.

If you live in an apartment you will love the fact that the Super Angel is an extremely quiet juicer.

One thing I really disliked about the Super Angel was that it came with a plastic jar for catching the juice, but after a few uses I switched to a pyrex jug. I think it's strange the company continues to use this plastic jug since all the other parts are medical grade stainless steel.

Over all, the Super Angel 5500 produces the best tasting and most nutritious juice. It's also incredibly quick to clean and easy to use, so if you can afford it, this is the best possible juicer you can buy for yourself and your family. If you can't afford this juicer, then you might consider the Omega J8006 or Omega VRT350HD as alternatives (both are very high quality masticating juicers).
---
Disclosure: This page generates income for authors based on affiliate relationships with our partners, including Amazon, Google and others.