Wheatgrass Juicers
by optimist
Health benefits of wheatgrass juicers, how they work, best prices, reviews of popular models and more...
Health Benefits
Wheatgrass has recently come to the attention of the scientific society and studies conducted indicate conclusively that it has a number of health benefits. This means that people who are serious about being healthy are starting to get serious about having wheatgrass juice regularly.

Wheatgrass juice has a number of health benefits. These range from being a detoxifying agent, helping to prevent cancer, and improving the health of patients who suffer from serious diseases such as cancer. To read more about the studies that have been conducted regarding the health and disease preventive/reducing properties of wheatgrass, please follow the links provided at the end of the article.
Wheatgrass contains high levels of vitamins A, B, C and E. It also contains high levels of amino acids and minerals such as calcium, phosphorous, iron and magnesium.

Wheatgrass is also suitable for vegetarians who wish to add protein to their diet since it contains amounts of protein.

Overall, wheatgrass has many undeniable health benefits. You can consume wheatgrass is the form of tablets or juice, both of which are available in certain health stores, both online and offline.

However, the healthiest way to consume wheatgrass is by making fresh, organic wheatgrass juice at home. Wheatgrass juice that you make at home is more nutritious due to the fact that enzymes are intact and there is no oxidation.
Making wheatgrass juice at home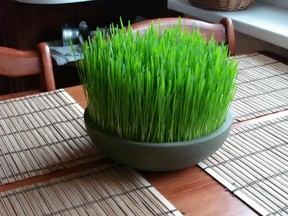 To make wheatgrass juice at home, you need a wheatgrass kit and a good juicer suitable for juicing wheatgrass.

Don't let the thought of growing wheatgrass at home daunt you - growing wheatgrass from a wheatgrass kit is incredibly simply. I tend to have a black thumb and have a hard time keeping my plants alive, however I have been able to grow wheatgrass on my kitchen sill with no problems at all.

Wheatgrass kits can be purchased online or from specialist nurseries. The next step is to get a good wheatgrass juicer…


Wheatgrass Juicer Reviews
When choosing a wheatgrass juicer, you need to ensure that it is either a masticating juicer or a twin gear (triturating) juicer. Centrifugal juicers do not work when it comes to juicing greens, and they simply cannot juice wheatgrass.

Between the two, a twin gear juicer is a better option for juicing wheatgrass. Twin gear juicers operate by have two rotating augers which are very close to each other squeeze the juice out of the wheatgrass efficiently. Twin gear juicers produce a higher yield of wheatgrass juice. They do cost more than masticating juicers. However if you are serious about juicing wheatgrass and will do so on a regular basis, then the twin gear juicers actually work out to be cheaper in the long run, since you'll need less wheatgrass to produce the same amount of juice.

The best twin gear juicer is the Super Angel 5500 juicer. Of course there are other more expensive twin gear juicers like the Norwalk juicers, however I think the Super Angel makes great wheatgrass juice and is extremely efficient in doing.

If you'd rather not buy a twin gear juicer, then your other option is to buy a masticating juicer. Although the most popular masticating juicer is the Omega VRT350HD, it's actually inferior to the Omega J8006-8003 series of juicers when it comes to making wheatgrass juice. The Omega VRT350 costs more than the J8006 series as well.

The masticating juicers work by having one auger which uses a crushing and grinding motion to extract the juice. Although masticating juicers are not as efficient as twin gear juicers in extracting wheatgrass juice, they do cost significantly less. The Omega J8006 and J8004 juicers are the best juicers in that series - they are actually the same juicer but the J8006 has a chrome and black exterior while the J8004 has a white exterior. The J8003 and J8005 are similar in design to the former models, but they have a slightly inferior auger while the 8004 and 8006 have a GE Ultem auger that is more durable and stronger. The 8003 and 8005 also come with a 10 year warranty as compared to the 8006 and 8004 which come with a 15 year warranty - however, the J8003 and J8005 cost slightly less.

Another thing to keep in mind when selecting juicers is that the Omega juicers also have the ability to be used as food processors. They can be used to make frozen desserts, pasta, baby food and even nut butters.

And of course, with a high quality masticating or twin gear juicer, you can always make other vegetable and fruit juices too!


Wikipedia On Wheatgrass...
Wheatgrass
is a food prepared from the cotyledons of the common wheat plant, Triticum aestivum. It is sold either as a juice or powder concentrate. Wheatgrass differs from wheat malt in that it is served freeze-dried or fresh, while ...
Resources: Wheatgrass Health Benefits
---
Disclosure: This page generates income for authors based on affiliate relationships with our partners, including Amazon, Google and others.