Why I Don't Do Keyword Research
by TerriRexson
Most people who write online for an income seem to think keyword research is important. Here's my alternative take on attracting search traffic.
Why I'm Writing About Keyword Research
When I started out writing online I didn't know anything about keyword research and I did fine. Then I started reading about keyword research. I tried it and I didn't like it (as my boys say when I make them try one mouthful of a new food.) I went back to my old ways and refined them. 
I'm writing this article because I didn't find much about writing for search engines that made sense to me when I started in this business. Notable exceptions are GreekGeek and FlynnTheCat on Squidoo, and later Janet21 who started questioning her non-conventional approach. Of course I didn't agree with everything they said! 
You need to find your own way. Piece together the bits that make sense from lots of sources to come up with your own method that plays to your strengths and avoids your weaknesses. Hopefully you'll find something useful here to weave in to your own approach. 
Oh and whenever you read an article like this you should always wonder about how much money the writer is making. I earn enough online to support our family of two adults and two kids. Our outgoings are pretty low, other than our gadgets and Lego budget!
(None of that money comes from making commission on selling tools and services to other writers. Don't worry you're not going to get to the end of this article and find an ad for the training course I recommend instead of keyword research ...)
What is Keyword Research?
First it's important to define what I mean by keyword research. I'm talking about using a keyword tool, like the google adwords keyword tool or a paid one to find search terms with a good balance of search volume versus competition. Where competition is usually described as the number of results on google, or the number of results with the keyword phrase in the title and url, or some other variation. (I'll cover why I ignore competition in a separate article.)
So basically you are looking for search terms that you can rank well for and which will give you a good volume of traffic. 
I Don't do Keyword Research
I don't do keyword research by that definition. I do occasionally use a keyword tool. Mostly I use one to check vocabulary because I'm British, not American. It's amazing how many everyday terms are different in the UK and US. I worked for a US company for a long time so I know US business English, but I have to be careful when writing about everyday topics. 
I said 'awesome' at home the other day. Merciless teasing followed. 
I do focus on search engine traffic. That's where most of my traffic comes from. 
It's Not That I Find Keyword Research Difficult
It's not that I find keyword research difficult or even dull. I'm very analytical. I could happily spend hours interacting with a search engine tool. I could write my own keyword research tool if I wanted to. (Computer Science PhD, used to work in search engine technology many years ago, pre-google.)
It's That I Disagree with the Theory
I just don't agree with the theory behind keyword research. Well for the kind of things I write about and the way I approach things. YMMV. My focus is affiliate marketing rather than making ad revenue, so that may make a difference too. I'm not just after traffic, I'm looking for buyers.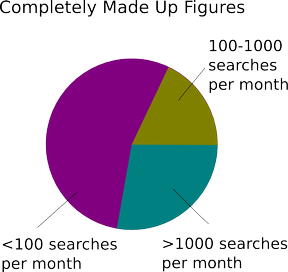 The way I see it is that those popular terms you are targeting with keyword research only make up a certain proportion of the available search space. I don't know the figures, but my instinct is that if you take out the very high competition search terms (like high profile celebrity names) that I'm unlikely to rank for, then much of the remaining search traffic is from unusual searches. 
Most of my search traffic has always been from large numbers of different long tail searches - many of the search terms will only be searched for a handful of times. But they add up. 
It doesn't really matter whether I'm right about the numbers. It's a model to work to and if money comes out the other end then it's a good model. When I get new evidence I adapt the model. 
So instead of writing articles that target an exact match search phrase, I target the wider search space around a topic. It seems like there's more potential traffic there and less competition because everyone else is so focused on keyword research! This means you need to know your domain vocabulary well. 
Of course, I sometimes end up ranking for popular terms too, but that's not really my primary goal. 
What Does Your Search Traffic Look Like?
Also Keyword Research Data is Old Data
Another problem I have is that keyword research inherently relies on old data. What do I mean by old data? I mean searches that have already happened! I don't care about that. I care about what people are going to be searching for in the future. My articles will be (hopefully) earning me money in the future, not in the past. 
I like to write about gadgets. If I wrote about what was popular last year (or even last week!), I'd often miss the mark. This is where knowing your subject matter comes in. Here you need to do market research, not keyword research. What are the trends in topics you're interested in? Does your favorite author have a new book coming out?
You can use tools like google trends, but that's still pretty old data by my definition. 
That doesn't mean I write about things that have a very short shelf-life (though I do sometimes.) I try and find things that are at the bottom of their hype curve and get in early. 
I'll certainly tackle evergreen subjects too, if I feel I have a fresh take on them, something that hasn't been said before, or a more current take on things. 
Many Topics Don't Have Obvious Search Queries
I find that there are many topics where search terms don't fit neatly into high volume exact match phrases. There's just too much variation in what people search for. For these topics you could have 10 people searching for the same information and they would come up with 10 quite different search queries. 
I want to cater to all of them. Of course this isn't as simple as finding a search term that's easy to rank for and then building it in to your content. 
You need to understand your domain well and view it with an analytical eye. Then you'll be able to spot topics like this. 
I'm Not Saying Keyword Research Doesn't Work
Keyword reseach certainly works to some degree. I can crunch the numbers and produce articles that do okay (I did try it for a while.) They're never my best articles though. 
Maybe keyword research works better for you than it does for me because you have a different style, or different skills. 
Maybe I'm missing the point with keyword research, and would do better if I used it. But I'm not convinced. You can try and convince me if you like. 
Is Keyword Research The Best Way to Get Search Engine Traffic?
Only logged-in users are allowed to comment.
Login
No. Throw your Keyword Research tools away.
Definitely. Go and buy a Keyword Research tool.
What do I do Instead of Keyword Research?
So what do I do instead of keyword research? Well that's a new article in its own right. But mostly I do market research and I follow my instincts. 
I stick to subjects that are meaningful to me. In many cases, it's what my kids are currently interested in (hence the Lego.) The subjects I write about will change as my kids get older. 
This keeps it fun and means I'm knowledgeable about the subjects I write about which makes the articles useful and full of the vocabulary and subject matter which will attract search engines. 
And there are plenty of subjects I still write about just for fun, not expecting them to make money, but because I'm interested in them and have to get the subject out of my system. Sometimes one of those does well by accident!
For me this is something I do naturally, but it's not ad-hoc, there is a method in there somewhere. 
More About Earning Money Online
---
Disclosure: This page generates income for authors based on affiliate relationships with our partners, including Amazon, Google and others.