Rollin Revisited: Lips of Blood (1975)
The late, great Frenchman Jean Rollin was one of the most unique horror directors ever. Here is a review of his seventh feature film.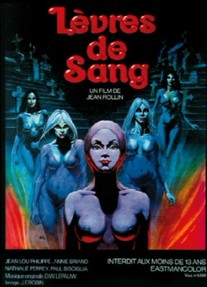 After having been absent for a couple of films, the vampires are back in "Lips of Blood" ("Lèvres de sang"), a movie in which Jean Rollin once again revisits his favorite themes and locations.

In a prologue, a woman and two men arrive by car to a castle. They carry a dead body wrapped up in sheets from the car and down into a crypt, where an open coffin is waiting. After a short funeral process, we cut to a party thrown by the in-crowd in Paris. There, we're introduced to Frédéric (Jean-Loup Philippe), who's fascinated by a poster -- a photo of the ruins of a castle. It reminds him of an incident from his childhood.

More than twenty years ago, when Frédéric was twelve years old, he got lost in the middle of the night and ended up at a castle, where he met a beautiful teenage girl dressed in white. He gave her a toy and spent the night in the cold and dark old castle -- or, rather, ruin of a castle. Frédéric is pretty sure the castle in the photo is the same one. Don't ask me why Frédéric has such vague memories from when he was twelve -- it's not like he was an infant when he met the girl.

Our hero wants to find the castle and the photographer who took the pic should of course know where it's situated. Frédéric looks the photographer up; it turns out to be a hot woman who's taking pictures of a naked porn model when he shows up. The model leaves and Frédéric asks about the castle -- but for some reason, the woman doesn't want to tell him where it is, somebody had paid her lots of money not to reveal it. Weird. Then the woman strips naked, hugs Frédéric and asks him to show up at the aquarium at midnight, since she'll be there for a shoot. There she'll tell him how to find the castle.

After this, Frédéric visits a movie theater. Outside it is the poster for "The Nude Vampire," but the movie screening inside is "The Shiver of the Vampires." Odd. Suddenly, in the middle of the movie, somebody appears in the theater, by the exit doors. It seems to be that mysterious young girl from twenty years ago. Frédéric follows her out, but she keeps on disappearing.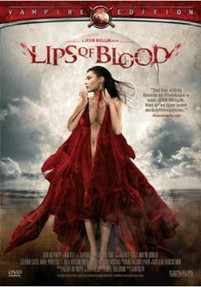 Meanwhile, a quartet of female vampires wake up in their tomb; only dressed in see-through, colorful negligees, they prowl the city. They attack and kill a man (played by Rollin himself) in a cemetery.

Frédéric arrives at the aquarium -- and finds the photographer dead in a pond. He runs out of there, and things just get stranger. He's suddenly hunted by a gun-toting hitman sporting a mustache. Frédéric seeks help from his mother, but she thinks he's crazy and calls for help -- and an ambulance arrives. Harsh men in white coats throw Frédéric into the ambulance and take him to a hospital, where they put a straitjacket and intend to give him a shock treatment. Fortunately, two of the nurses are vampires. They kill a doctor and Frédéric escapes.

Frédéric finally manages to find the crumbling old castle, where his mother tells the story about what happened when Frédéric was a little boy. His parents tried to keep secrets of vampirism from him. A couple of vampire killers arrive and stake the female vampires. Frédéric is asked to stake and decapitate the girl from his childhood -- but he manages to fake it.

In the romantic ending, we're once again on Rollin's beloved beach, where Frédéric and the girl have monologues, strip naked, seem to be madly in love, then she bites him. In the final scenes, the naked couple climb into a coffin which is carried out to sea by the tidal waves.

This is a very odd movie with a pretty odd storyline. Jean Rollin's work is an acquired taste. "Lips of Blood" features the same dreamy, surreal and weird moments as his earlier films. However, this one also has a few action- and regular thriller moments. The hitman doesn't really seem to fit in. The logic of the movie is totally nuts. Why doesn't Frédéric remember his childhood? How come it's so hard to find out where a castle is situated? It's after all a castle, not an ant-hill! Why did people let the photographer take pictures of the castle and publish them -- and then pay her not to tell anyone where it is?

Very weird.

However, this weirdness does of course not stop "Lips of Blood" from being a good and atmospheric Jean Rollin movie. It's supposed to be weird.  


ROLLIN REVISITED:
THE RAPE OF THE VAMPIRE (1968)
THE NUDE VAMPIRE (1970)
THE SHIVER OF THE VAMPIRES (1971)
REQUIEM FOR A VAMPIRE (1971)
THE IRON ROSE (1973)
DEMONIACS (1974)
LIPS OF BLOOD (1975)


Would you too like to write for Wizzley? Click HERE for more information!
The Lost Interview: Jean Rollin
Back in 2008, I made a lengthy interview with Jean Rollin. However, it was never published, and then the document with the interview disappeared. Recently, I found a few bits and pieces of it and reconstructed a few parts of the interview. Here it is.
Lips of Blood [Blu-ray]Only $54.95
Lips of Blood

LIPS OF BLOOD - DVD Movie

Only $9.99
Lips of Blood (Remastered)$15.78 $10.99
Lips of BloodOnly $9.07
Perverse Titillation: The Exploitation Cinema of Italy, Spain and France, 1960-1980

The exploitation film industry of Italy, Spain and France during the height of its popularity from 1960 to 1980 is the focus of this entertaining history. With subject matter ...

$39.95 $35.94
Jean-Pierre Bouyxou contre La Femme au Masque Rouge (French Edition)$16.41 $59.59
Monseigneur Rat: Roman (Sortileges) (French Edition)Only $28.24
---
Disclosure: This page generates income for authors based on affiliate relationships with our partners, including Amazon, Google and others.