Rollin Revisited: The Iron Rose (1973)
The late, great Frenchman Jean Rollin was one of the most unique horror directors ever. Here is a review of his fifth feature film.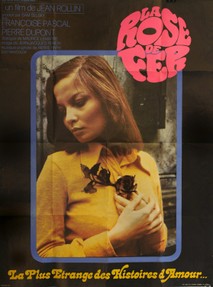 In his fifth feature film, Jean Rollin abandons his usual vampire theme. Instead we're served a highly effective exercise in Gothic atmosphere.

"The Iron Rose" ("La Rose de Fer") opens with a familiar view. Once again we're on one of Jean Rollin's beloved beaches -- well, it's probably the same northern French beach that was featured in his previous movies. A young woman strolls along this beach when she finds a rose made of iron lying in the sand. She picks it up and looks at it, before tossing it into the sea.

After this, we cut to grey, foggy streets of a small village, and then to a wedding party. This is somewhere in the French countryside, but if I didn't now better -- and if people didn't speak French -- I'd take it for eastern Europe. The woman from the prologue is attending the party, and so is a young man who, after reciting a poem, asks the unnamed woman out.

They meet up a couple of days later and for some reason, they decide to have a picnic in an atmospheric, Gothic cemetery (as one does). While sitting there, weird and bizarre people walk by; a man looking like a tramp, another one dressed like Dracula. Suddenly the young man -- who's also unnamed -- suggest they should open up one of the tombs and go down there. A very odd idea, but after all, this is a Jean Rollin movie and anything can happen, so the couple climbs down into a tomb for some hanky-panky (the guy has a very hairy back). Meanwhile, a female clown arrives to the scene -- she walks up to a grave, places flowers on it, and then leaves.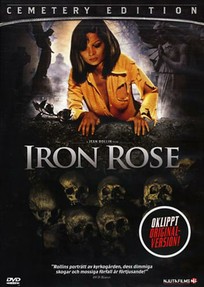 When our young heroes climb up from the tomb, it's dark outside. The atmosphere is creepy, and to make matters worse, the two lovers get lost on their way out. They simply can't find the gates, and the cemetery seems to grow bigger and bigger. The get scared and then pissed-off -- and start fighting each other. The girl hits the guy with a wooden cross before she calms down.

The girl starts behaving weird, like she's possessed, and frightens the guy, who makes a run for it -- and trips and falls into an open grave, filled with skulls and bones. He's hurt himself and can't get back up. The girl jumps down to him -- and immediately, they start making out. He feels better, and they climb back up. Hand in hand, they explore the dark, menacing cemetery.

Midnight. A clock strikes twelve times and the girl once again finds the iron rose. She picks it up and says it will help them find a way out. Then she laughs and runs away -- apparently, she wants to play hide and seek, so she hides behind a tombstone. When the guy climbs down the tomb where they had sex earlier in the movie, the girl closes its doors and locks them. Singing happily, she dances around in the cemetery until the sun rises.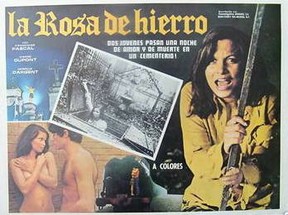 I more or less gave away the full plot in my summary -- but that doesn't really matter. I wouldn't say that "The Iron Rose" is about its story. As you can tell, there's not much of a story here. Instead, the movie is more like a state of mind. A spooky, nightmarish -- and beautiful -- state of mind. Rollin's film plays like a Gothic poem from the 19th century. It's all about haunting images and haunting lines of dialogue; lines that often sound like poetry -- philosophical thoughts about life and death.

Besides the fact that there are no vampires or ghouls in the movie, "The Iron Rose" differs quite a lot from Jean Rollin's previous movies. The look is slightly different, it's less colorful, most of the film is set outdoors and by night, while the daylight scenes are enshrouded in atmospheric fog. The atmosphere is also enhanced by an eerie music score by Pierre Raph.

This is however clearly a Jean Rollin movie, it's impossible to mistake it for something else. The amount of nudity and sex is very low, there's no lesbian sex at all, but we do get Rollin trademarks like the beach, a clown, and a crumbling cemetery. The latter is quite amazing, a huge labyrinth of tombs, statues, sculptures and weirdness.

"The Iron Rose" is one of Jean Rollin's best movies.  


ROLLIN REVISITED:
THE RAPE OF THE VAMPIRE (1968)
THE NUDE VAMPIRE (1970)
THE SHIVER OF THE VAMPIRES (1971)
REQUIEM FOR A VAMPIRE (1971)
THE IRON ROSE (1973)
DEMONIACS (1974)
LIPS OF BLOOD (1975)


Would you too like to write for Wizzley? Click HERE for more information!
The Lost Interview: Jean Rollin
Back in 2008, I made a lengthy interview with Jean Rollin. However, it was never published, and then the document with the interview disappeared. Recently, I found a few bits and pieces of it and reconstructed a few parts of the interview. Here it is.
---
Disclosure: This page generates income for authors based on affiliate relationships with our partners, including Amazon, Google and others.