Rollin Revisited: Requiem for a Vampire (1971)
The late, great Frenchman Jean Rollin was one of the most unique horror directors ever. Here is a review of his fourth feature film.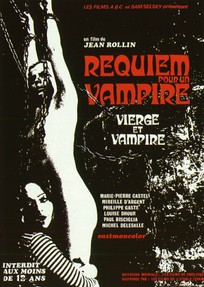 First of all, do not confuse this movie with the American 2006 film of the same title!

"Requiem for a Vampire" is my personal favorite of Jean Rollin's movies. It's also the the very first Rollin movie I saw, after having read about the director in some horror movie magazine. Rollin and his work seemed to be utterly interesting, and "Requiem for a Vampire" seemed to be a perfect place to start -- and I must say I guess it is. This is the quintessential Jean Rollin movie and features everything you expect from his movies: a very odd story, almost no dialogue, moody music score, nudity, lesbian vampires, sex, clowns, a crumbling castle, a Gothic cemetery, haunting images, surrealism and a dreamy, lyrical atmosphere.

The original title of this movie was "Vierges et vampires" ("Virgins and Vampires"), but I've absolutely no idea if it was released under this moniker. It was retitled "Requiem pour un vampire," which of course means "Requiem for a Vampire." However, when a heavily edited and dubbed version opened in the United States in 1973, it was retitled "Caged Virgins"! A very misleading title …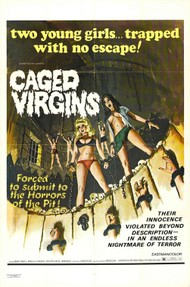 The film opens with a car chase and gunfire. Two girls; Michelle and Marie -- for some reason dressed as clowns -- sit in the back of a getaway car, but we never find out what they done, why the cops are after them. They manage to get away, but their driver dies. After setting the car -- and the driver -- on fire, Michelle and Marie wander the picturesque French countryside.

They wash their clown make-up off and enter a forest, where they play around with a guy working in a very oddly placed sandwich stand. Then the girls end up in a very atmospheric cemetery, where one of them manages to fall into an open grave. She's almost buried, but manages to climb back up.

After a close encounter with vampire bats, Michelle and Marie finds the ruins of a castle, which they enter. They're all alone in there and simply can't resist stripping naked and jump into a large bed. However, when darkness falls, they discover that they aren't alone in the castle after all. Surrounded by skeletons, they find a creepy woman playing an organ. The woman's apparently a vampire, so the two girls try to escape, but they run into a couple of men, who -- instead of saving them -- brutalize them!

Now a male vampire makes his entrance. He's the last vampire of his bloodline, and to continue it, he wants to turn Michelle and Marie -- something Michelle doesn't mind. Marie, on the other hand, hesitates …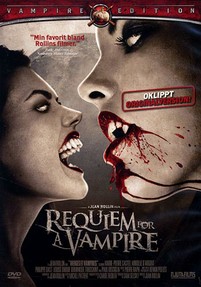 As you can tell from this brief plot summary, the story more than just a tad strange. But it doesn't matter. This movie is more or less just a long string of bizarre and nightmarish scenes, several of them are hard to forget. There's a scenes in which a vampire is sitting outdoors, playing a candle-lit grand piano in the middle of the night. The crumbling castle is quite amazing and almost a character in itself. When I interviewed Jean Rollin back in 2008, I had to ask him where he found all those castles he featured in his movies. according to him, there are lots and lots of old castles in France, he found the ones he used in the countryside near Paris. The area seems to be littered with castles!

"Requiem for a Vampire" contains one scene that's still controversial. The two young heroines are caught, chained and whipped in a rather long and brutal scene. It really doesn't fit in with the rest of the movie and feels like it was tacked on afterwards, just to add more naked skin and violence. The rest of the movie is slow-paced and poetic, while this scene feels like in-your-face exploitation; like a so-called roughie. This scene was censored from the version Redemption released on VHS in the UK in 1993. The full, uncut version is available on DVD.

Jean Rollin may be an acquired taste, but if you're interested in unusual -- in this case very unusual -- European genre movies, "Requiem for a Vampire" is a rewarding experience.


ROLLIN REVISITED:
THE RAPE OF THE VAMPIRE (1968)
THE NUDE VAMPIRE (1970)
THE SHIVER OF THE VAMPIRES (1971)
REQUIEM FOR A VAMPIRE (1971)
THE IRON ROSE (1973)
DEMONIACS (1974)
LIPS OF BLOOD (1975)


Would you too like to write for Wizzley? Click HERE for more information!
The Lost Interview: Jean Rollin
Back in 2008, I made a lengthy interview with Jean Rollin. However, it was never published, and then the document with the interview disappeared. Recently, I found a few bits and pieces of it and reconstructed a few parts of the interview. Here it is.
---
Disclosure: This page generates income for authors based on affiliate relationships with our partners, including Amazon, Google and others.