Rollin Revisited: The Rape of the Vampire (1968)
The late, great Frenchman Jean Rollin was one of the most unique horror directors ever. Here is a review of his feature film debut.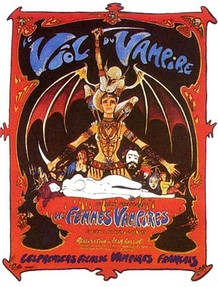 September, 2008. It was a great honor for me introduce not only French director Jean Rollin's debut feature film; "The Rape of the Vampire" ("Le viol du vampire") from 1968, at Fantastisk Filmfestival in Lund, Sweden. It was an even greater honor to also introduce the man himself, the legendary director, who attended the festival. It felt extremely cool to finally be able to say "Ladies and gentlemen: Monsieur Jean Rollin!" -- and see the man walking up to me for a little chat, and then once again after the screening for a Q&A.

Jean Rollin, who passed away in 2010, was famous -- maybe even infamous? -- for his surreal, dreamlike, erotic horror movies and thrillers; he's especially remembered for his string of vampire movies. Rollin's movies didn't look like anything else and maybe they're an acquired taste. They're very slow-paced, the dialogue is sparse, the actors are mainly amateurs (and in some cases porn actors). But all this adds to a certain atmosphere, that special Rollin atmosphere. There's nothing quite like it.

"The Rape of the Vampire" is in some ways a typical Rollin movie -- but it differs from the rest of his productions in several ways. First of all, it's shot in black and white. But what makes this one of Rollin's strangest movies, is its story -- or, rather, lack of story. The movie centers around four sisters who live in a chateau in the countryside. They believe they're 200-year-old vampires, and a trio of psychoanalysts visit and try to convince the sisters they aren't any vampires. Some weird stuff happens, before a mob hunts the sisters down and kill them.

This happens half-way through the movie. In the second half, the Queen of the Vampire appears, and there's a scientist who's trying to come up with an antidote to vampirism. Or something like that.

I was actually a tad embarrassed during that festival screening of this movie -- you see, the audience was laughing. Most of the young people attending had never seen a Rollin movie before, and they didn't know what to make of the weirdness. Jean Rollin himself didn't seem to care, though. He said that his debut feature is a very naive film. It's not supposed to be taken very seriously.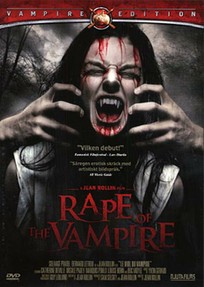 The reason the movie is divided into two parts, is that Rollin had originally made a much shorter movie; about 30 or 40 minutes long. Then the movie's producer, American $am $elsky (who liked to spell his name like that), asked Rollin to expand the film into a feature. Rollin was also asked to add more nudity and eroticism to his movie -- which he did. What's funny is that Rollin kind of was forced to add sex and naked women to his debut film, while he in his later movies put it there himself, by default, since he liked it.

There are lots of rumors about the premiere of "The Rape of the Vampire" in Paris. Since this was in 1968, it was in the middle of the big youth revolt, the uprising. It's said that the audience rioted in the movie theater, that they threw things at both the screen and at Jean Rollin. I asked Rollin about this and he confirmed it's true. However, I must say it still sounds a bit weird and incredible. I didn't really understand Rollin's explanation to why the audience behaved like this. I thought kids back in '68 would like a bizarre and daring movie like this!

Anyhow. "The Rape of the Vampire" isn't really representative for Jean Rollin's body of work, but it's still a movie all Jean Rollin fans, and all connoisseurs of strange and wonderful European cinema need to have in their collection.
ROLLIN REVISITED:
THE RAPE OF THE VAMPIRE (1968)
THE NUDE VAMPIRE (1970)
THE SHIVER OF THE VAMPIRES (1971)
REQUIEM FOR A VAMPIRE (1971)
THE IRON ROSE (1973)
DEMONIACS (1974)
LIPS OF BLOOD (1975)
Would you too like to write for Wizzley? Click HERE for more information!
The Lost Interview: Jean Rollin
Back in 2008, I made a lengthy interview with Jean Rollin. However, it was never published, and then the document with the interview disappeared. Recently, I found a few bits and pieces of it and reconstructed a few parts of the interview. Here it is.
---
Disclosure: This page generates income for authors based on affiliate relationships with our partners, including Amazon, Google and others.